Sometimes the last thing you want to do after a long day of work is come home and spend hours on dinner. Here's an idea. Do you have a fridge full of vegetables getting ready to go bad? Then this one-pot primavera recipe is your perfect solution. Not only is it extremely easy, it requires very little cleanup.
You can choose any type of produce to fit your taste, you don't have to stick to the veggies in this recipe. Since summer produce is rolling out, you could throw in some cauliflower, carrots, squash, or cabbage. Just don't forget to add in a combination of nutrients.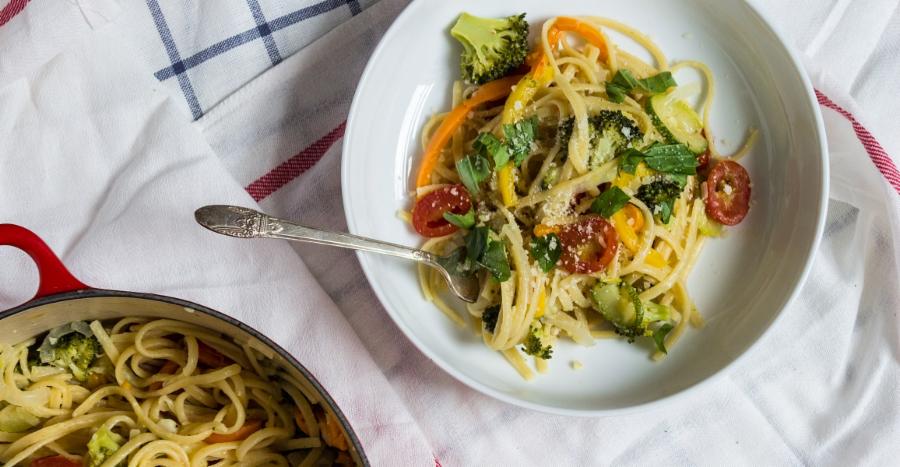 Ingredients
1 medium zucchini, thinly sliced into half rounds
1 medium onion, thinly sliced
2 bell peppers (any color), thinly sliced
1 pint cherry tomatoes, halved
1 large head broccoli, cut into small florets
12 ounces fettuccini pasta
1/2 teaspoon red pepper flakes
4 1/2 cups water
Basil
Salt
Pepper
Grated Parmesan cheese (optional)
Extra-virgin olive oil
Directions
1) Place all of your ingredients (except Parmesan and oil) in a large soup pot. Add basil, salt, and pepper for taste. Bring it to a boil and then let it simmer for about nine minutes, stirring frequently.
2) Drain the pot, but save 1/2 cup of pasta water and set it aside.
3) Add the pasta and vegetables back to the pot, then add the 1/2 cup pasta water you set aside. Stir it all together. Season again with salt and pepper for taste. You can add Parmesan, if desired, and drizzle your primavera with oil.
You're ready to eat! Be sure to save this primavera recipe in your cookbook, because remember, you can change up the produce and turn it into a new dish each time.
Next time, try adding chicken!