Venture Bros has been one of the oldest animated series on the Adult Swim block of Cartoon Network. Debuting as a pilot in 2002 and then as a series in 2004, the show was a satire of Jonny Quest in how it depicted the adventures of a scientist, his bodyguard, and his two boys as he trotted around the globe. Unlike Jonny Quest, however, the protagonists were meant to be exaggerations and scathing satirical figures of the show it was based on. Doctor Venture is a mess of drug abuse and failure, his bodyguard Brock is an ultraviolent psychopath, and his boys are just…dim. The show would quickly find an audience in its referential humor and savaging of nostalgia, taking aim at mocking everything from classic comic books to 1980s television.
Though the show has lasted for seventeen years, there have only been seven seasons. The wait times between seasons was agonizing but not for lack of quality. The episodes boast some of the more robust of 2D animation on television, worthy of a feature film. In fact, when some seasons seemed to take extra long, it usually meant something big was planned for the return. This usually meant a two or three-part event, as with the special preceding season six. The fans were devoted to waiting years for another season of this highly hilarious and pop culture gutting of a show that hit all the right spots.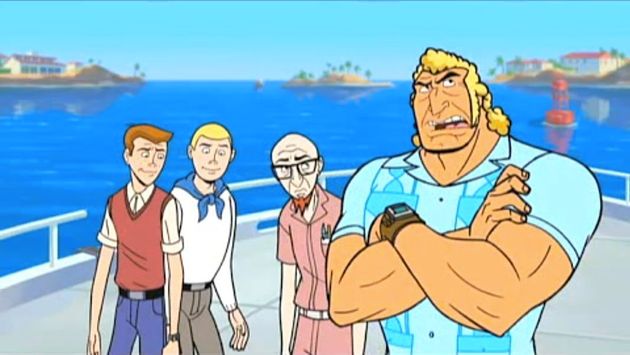 Sadly, it seems that season eight will not be happening. Jackson Publick, the co-creator of the series who still writes and directs as well as voicing a good chunk of the primary characters, revealed on Twitter that the show will not be coming back:
"Unfortunately, it's true: #VentureBros has been canceled. We got the highly disappointing news a few months ago, while we were writing what would have been season 8. We thank you, our amazing fans, for 17 years of your kind (and patient) attention. And, as always, We Love You."
James Urbaniak, the voice of Doctor Venture for all seven seasons, also broke the bad news:
"So, as it must to all, cancellation has come for The Venture Bros. The pilot aired 17 years ago, which means the show was almost old enough to vote. It was one of the great gifts of my life & career. The fans were, quite simply, the best. Thank you, everybody. Go. Team. Venture!"
The many fans are currently voicing their concerns over social media about such a staple of animation for nearly two decades going under. Will Venture Bros find a new home elsewhere on the likes of Warner Bros' HBO Max service or would Netflix be willing to swoop in and save the day? One thing we do know is that Cartoon Network apparently won't be picking up the bill.