Since acquiring the Muppets from the Jim Hensen Company in the late 1980s/early 1990s, Disney has continued to find something to do with the Muppets. They've produced numerous films such as the classic Muppet Christmas Carol from 1992 to the not-so-classic Muppets Most Wanted from 2014. There have been a few TV series attempts as well as with a late 1990s Muppet Show revival (Muppets Tonight) as well as a mockumentary-style comedy (2015's The Muppets). Both series only lasted one season, though.
Still, Disney hasn't given up on the Muppets and is continuing the puppet mayhem with a new series for their streaming service of Disney+. Muppets Now will adhere to the previous series assemblies of the Muppet characters struggling to put on a show. In this case, they need to come up with bits for a new streaming program and scramble to film bits and attain celebrities to interview. So, you know, Muppet Show mania as usual.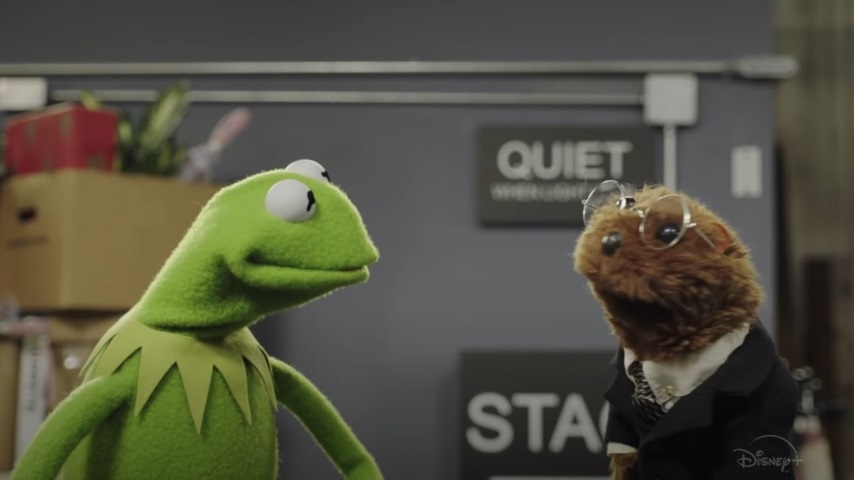 Check out the trailer and the synopsis below:
In a true first for the studio, "Muppets Now" is an unscripted series filled with improv comedy, off-the-cuff gags, and the Muppets' celebrity friends. In the six-episode season, Scooter rushes to make his delivery deadlines and upload the brand-new Muppet series for streaming. They are due now, and he'll need to navigate whatever obstacles, distractions, and complications the rest of the Muppets throws at him. Overflowing with spontaneous lunacy, surprising guest stars and more frogs, pigs, bears (and whatevers) than legally allowed, the Muppets cut loose in "Muppets Now" with the kind of startling silliness and chaotic fun that made them famous. From zany experiments with Dr. Bunsen Honeydew and Beaker to lifestyle tips from the fabulous Miss Piggy, each episode is packed with hilarious segments, hosted by the Muppets showcasing what the Muppets do best.
Muppets Now will be on Disney+ on July 31, 2020.