It hasn't taken Hollywood long at all to capitalize on the nature of the Covid-19 pandemic that has devastated the world for nearly all of 2020. There's already been numerous TV series to stage drama around the subject (The Connors), animated comedies to poke fun at it (South Park), and even dark thrillers that are far too soon (Songbird). Now comes a heist picture which is a surprisingly clever concept and actually features a compelling cast.
Directed by Doug Liman (Mr. and Mrs. Smith), the film follows the characters of Linda (Anne Hathaway) and Paxton (Chiwetel Ejiofor). Both of them are growing mad with the level of quarantine they've had to put up with and growing bitter about the whole experience. With the economic times hitting them harder than ever, they decide to strike out against the corporate overlords that have caused them such anxiety about where their next paycheck will come from. Thus, a heist proceeds in a mixture of drama and comedy with a poignant touch of the current crisis. The film will additionally star Stephen Merchant, Mindy Kaling, Lucy Boynton, Dulé Hill, Jazmyn Simon, with Ben Stiller and Ben Kingsley.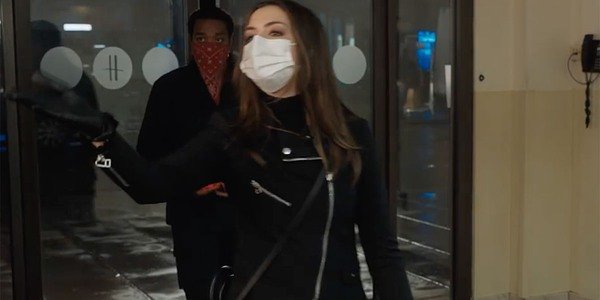 Check out the trailer and read the synopsis below:
In Locked Down, just as they decide to separate, Linda (Anne Hathaway) and Paxton (Chiwetel Ejiofor) find life has other plans when they are stuck at home in a mandatory lockdown. Co-habitation is proving to be a challenge, but fueled by poetry and copious amounts of wine, it will bring them closer together in the most surprising way.
Locked Down will be debuting on HBO Max on January 14th, 2021.