You don't need us to tell you how amazing avocados are. Besides their taste, texture, and health benefits, one of their best features is that they can also double as an edible bowl for all kinds of fixins.
Here are three of our favorite recipes to stuff your 'cados full of even more tasty goodness.
Baked Eggs and Bacon Stuffed Avocados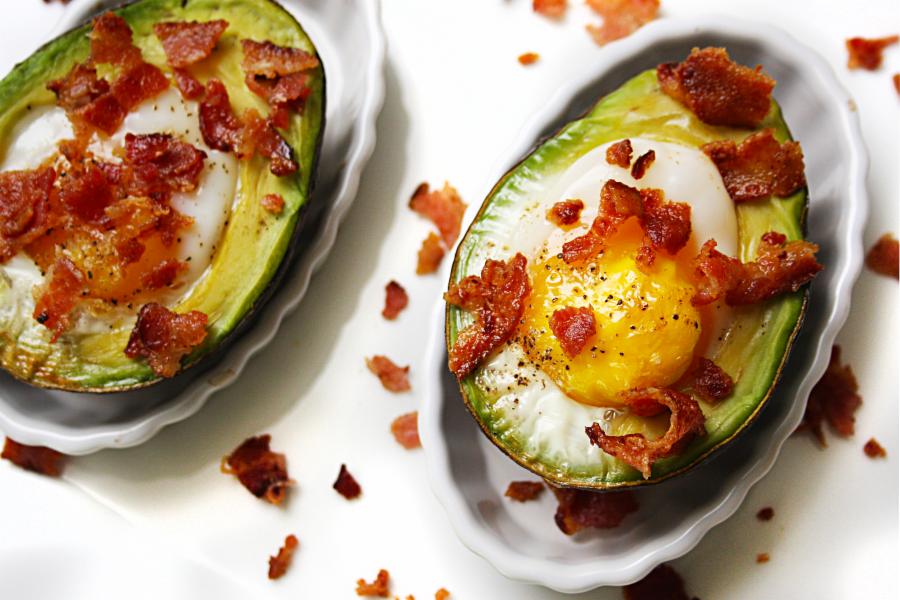 Recipe by White On Rice
Ingredients
1 avocado
2 small eggs
2 slices of cooked bacon, crumbled
sea salt
fresh cracked black pepper
hot sauce (optional)
fresh tomato, chopped (optional)
Directions
Preheat oven to 425 degrees F. Crack eggs into a medium bowl, careful to preserve the whole yolks. Set aside.
Slice avocado in half lengthwise and remove pit. The hole in the avocado is usually big enough for one small egg, but if it looks too small, scoop out more flesh until it's big enough.
Place avocado in a medium baking dish, careful to rest it evenly against a wall so that it won't tilt over.
Use a medium spoon to gently scoop out one of the egg yolks and place it into the hole of the avocado. Continue spooning egg whites into the hole until filled. Repeat for the second avocado half.
Sprinkle salt and pepper over eggs, to taste.
Gently place the baking dish in the oven and bake for about 15 minutes, until the egg is cooked through to the consistency of your liking. Remove from oven and sprinkle with crumbled bacon, tomatoes, hot sauce, and additional salt and pepper to taste.
Mango Black Bean Avocado Salad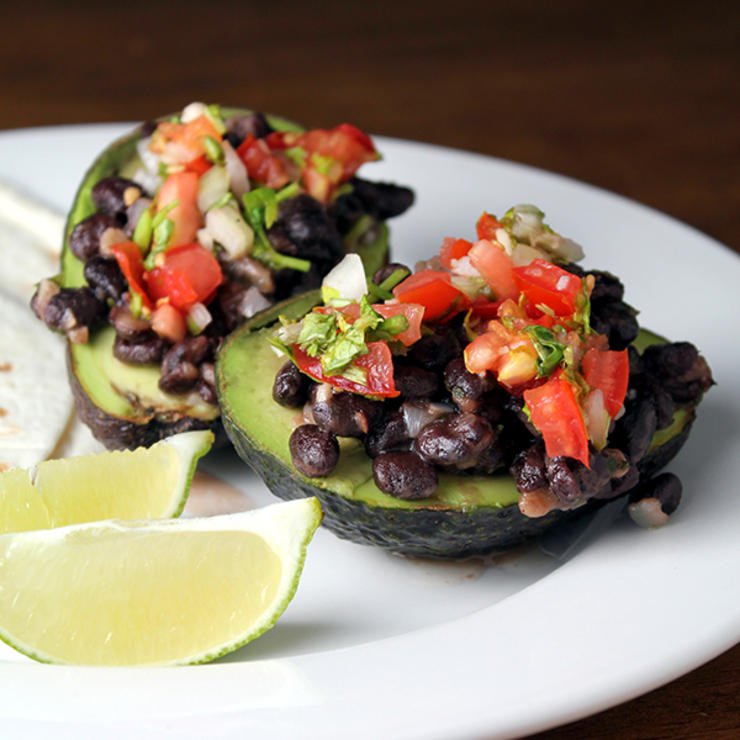 Recipe by Flourishing Foodie
Ingredients
6 pieces of bacon (or veggie bacon), cooked and chopped
1 15 oz can of black beans, drained and rinsed
10 cherry tomatoes, halved
1 mango, chopped
1/2 red pepper, chopped
1 shallot, thinly sliced
1 lime, squeezed
1 tbsp olive oil
salt and pepper to taste
2 avocados, halved and pit removed
cilantro for garnish
Directions
In a large bowl, combine the bacon, beans, tomatoes, mango, red pepper, shallot, lime juice, olive oil, salt and pepper. Scoop a generous serving of the black bean salad into each avocado half. Garnish with chopped fresh cilantro.
Salmon Stuffed Avocado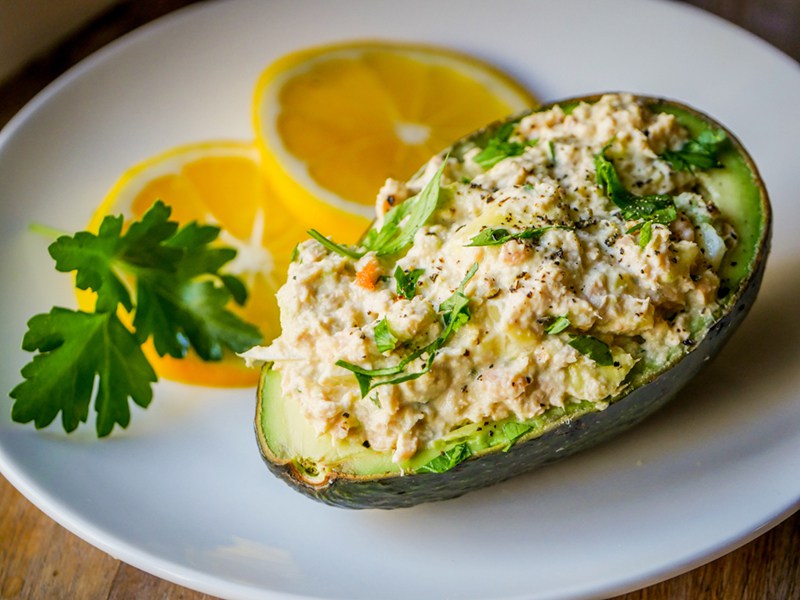 Recipe by Martina Slajerova
Ingredients
2 small-medium or 1 large avocado, halved and pit removed
2 small salmon fillets
1 small white onion, finely chopped
¼ cup soured cream, crème fraîche, or mayonnaise
2 tbsp fresh lemon juice (about ½ lemon)
salt and black pepper
1 tbsp ghee or coconut oil
1-2 tbsp freshly chopped dill
lemon wedges for garnish
Directions
Preheat the oven to 400 F. Place salmon filets on a baking tray lined with parchment paper. Drizzle with melted ghee/coconut oil, 1 tbsp lemon juice, and salt and pepper to taste. Place in the oven and bake for 20-25 minutes. Let cool for 5-10 minutes.
Using a fork, shred the salmon fillets and discard the skin. In a large bowl, mix in onion, sour cream, dill, remaining lemon juice, and salt and pepper to taste.
Scoop out the middle of the avocado out leaving ½ – 1 inch of flesh around the edges. Cut the scooped avocado into small pieces and add to salmon mixture.
Fill each avocado half with salmon mixture and enjoy!