Haley Arsenault is a single mom from Prince Edward Island, Canada who was struggling to take care of the triplets she gave birth to just over a month ago. When she reached out for help, she got it from another trio.
Haley, 25, posted on Facebook that she needed help taking care of her month-old triplets. Answering the call were sisters Jenny, Alice, and Anita. The three are retired and all have grandchildren of their own. Now they spend one day a week as volunteer babysitters for Haley's triplets: Hogan, Rylan, and Finn.
"Knowing what it's like to have one baby, it's a lot of work," says Jenny. "When I heard that she had three, I could really understand how exhausting it must be."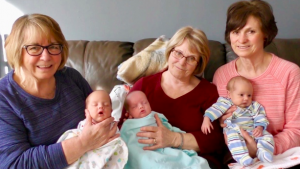 The three sisters have turned into a perfect match for the three babies. The three sisters get to spend quality time with each other while each baby gets plenty of attention.
"For me, it's a gift to come here," says Jenny. "We chat, we compare the babies. Love every minute of it."
When Jenny, Alice, and Anita come over, Haley typically uses the time to catch up on sleep. The sisters also take care of some of the household chores. Most importantly, they make sure the triplets keep a regular feeding schedule.
"When they're all fed, they're going to sleep for two or three hours, and the mother can have a rest if she's alone," explains Alice. "But if not, she could be feeding all the time."
Haley is also getting help from her parents, who also take shifts caring for the babies. But she doesn't know where she'd be if she hadn't found the three sisters.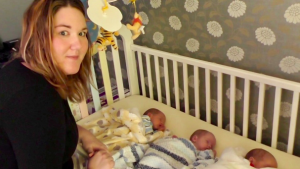 "To have strangers come in and actually make a connection with your babies is pretty amazing," says Haley. "They become people that you know and trust and that's the big thing."
The sisters say they will help take care of the babies as long as they're needed. They also don't seem to be in a rush to stop.
" love it. I enjoy it," says Jenny. "I always said when I retired, the only thing I wanted to do was rock babies."
[Images via cbc.ca]