Ah, Spam. Love it or hate it, there's no denying that this spiced, processed pork product holds a special place in America's collective food conscience.
Here are a few facts for you: Marketed early on as "The Meat of Many Uses!", Spam marks its 80th anniversary this year. Back in 2012, Spam sold its 8 billionth can, and to this day, it's available in 44 countries. Its packaging is on display at the Smithsonian. In Hawaii, to the bafflement of visiting mainland tourists, it's considered a delicacy served with everything.
Undoubtedly, Spam's glory days were the 1960s, when cooks took the canned lunch meat to a whole other level. Take a look at three of these bizarre recipes taken straight from marketing materials of that era. Would you try them?
Spam Birds
Apparently, this was meant to be some sort of turkey stand-in for Thanksgiving. The recipe is a simple one: wrap thin slices of Spam around some stuffing, fasten with a toothpick, brown in the oven, and wham! Spam Bird.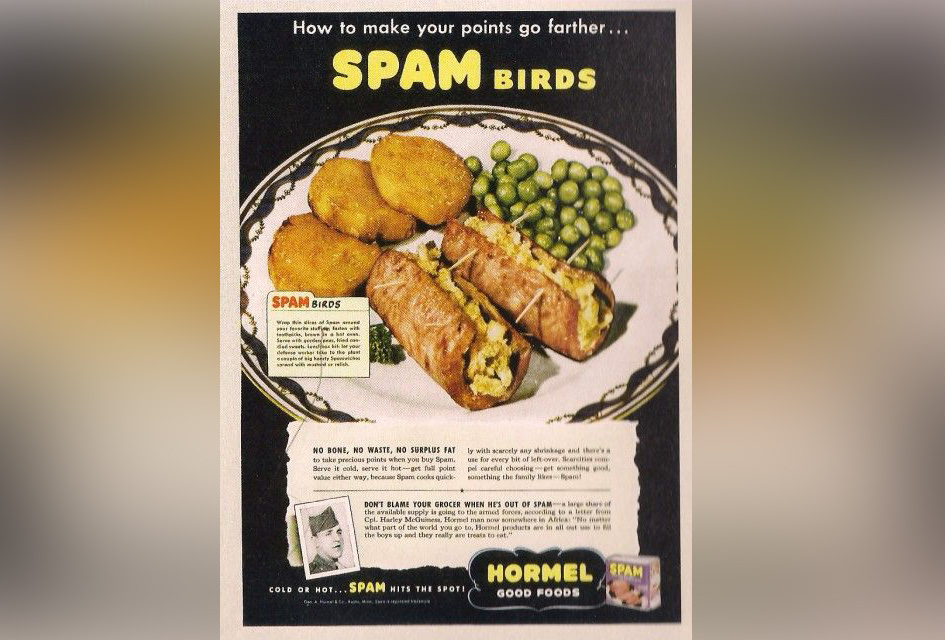 Spam 'N' Cheese Ribbon Loaf
Because if there's anything better than Spam, it's Spam in a loaf.
Ingredients:
1 can Spam
1 package cream cheese, softened
1 teaspoon lemon juice
1 teaspoon grated onion
1 tablespoon minced parsley
¼ teaspoon salt
Directions:
Cut Spam into 8 even slices. Mix together the remaining ingredients, and spread between the slices of spam. Wrap together in plastic wrap and chill at least 4 hours or overnight. Slice and serve.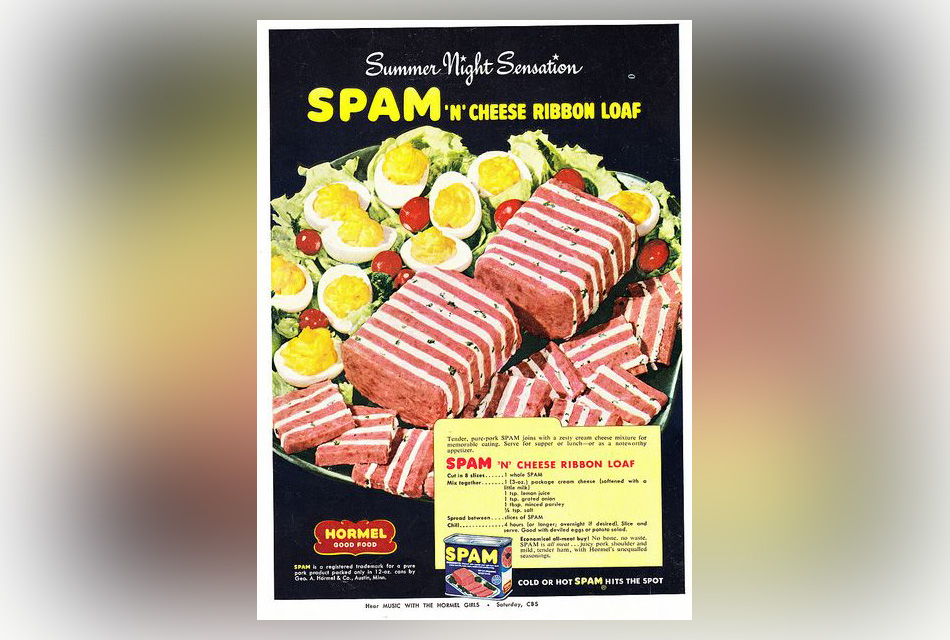 Spam Brittany
Four words: Class on a plate.
Ingredients:
1 can Spam
1 medium apple, sliced and cored
½ pure orange marmalade
24 whole cloves
Directions:
Preheat oven to 350 degrees. Cut Spam into 8 even slices. Alternate the Spam slices with the apple slices, trimming the apple for an even appearance. Secure with toothpicks or skewers and place in pie plate or shallow baking dish. Stud each Spam slice with 3 cloves and spoon the marmalade on top. Bake 40 minutes at 350º.