Grogu, better known as Baby Yoda before he had had a name, has certainly been the icon of Disney's The Mandalorian. The Disney+ exclusive Star Wars series follows a mysterious mercenary Mandalorian who happens upon a small child in his travels. Not committed enough to kill the child, the mercenary takes the kid in his care while he ventures across the galaxy, picking up work and trying to avoid pursuing Empire of Stormtroopers and the Sith. The series has been successful enough for two seasons and is heading into its third, making it one of Disney+'s most successful series to date.
While there has been a lot of Grogu merchandising, the green little guy is finally hitting the big time on Thanksgiving. In this year's Macy's Thanksgiving parade, you'll have to keep an eye out for the Grogu float looming over New York City. Take a look at the design we can expect this fall: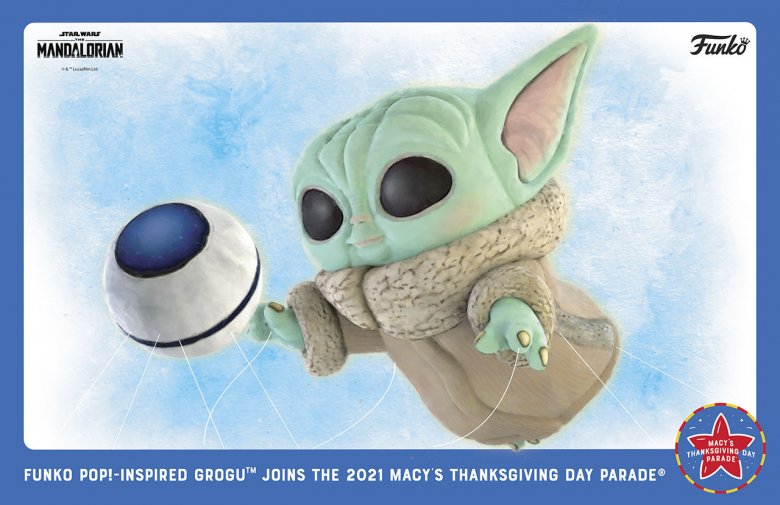 Okay, so it's technically a Funko Pop-inspired design, but it's still Grogu.
The executive producer of the parade, Will Ross, spoke about such an inclusion reflecting pop culture:
"The giant balloons in the Macy's Thanksgiving Day Parade have always reflected the very best of pop culture and there is no better example of that than Grogu who has become an instant global sensation. We are thrilled to collaborate with Funko and Lucasfilm on this Funko Pop! version of the beloved character that is sure to delight legions of Star Wars galaxy fans."
You can also expect a Funko Pop Grogu sometime in the future, as the design implies.
The Macy's Thanksgiving Day parade will be held on November 25, 2021, in New York City and televised.