A pair of Australian teens are being hailed as heroes after pulling a kangaroo to safety that was up to its neck in mud.
Jack Donnelly and Nick Heath, both 19, were riding motorbikes on the outskirts of Sydney Sunday afternoon when they spotted a kangaroo that had become trapped in mud. His head was sticking out, as he called out in distress.
They believe the kangaroo was so desperate for water amidst a stretch of dry weather that he ventured across the mud flats in search of water, only to get stuck.
At first, Donnelly and Heath tried to reach the kangaroo on their own. When they couldn't, they hustled home to get some rope for their rescue operation.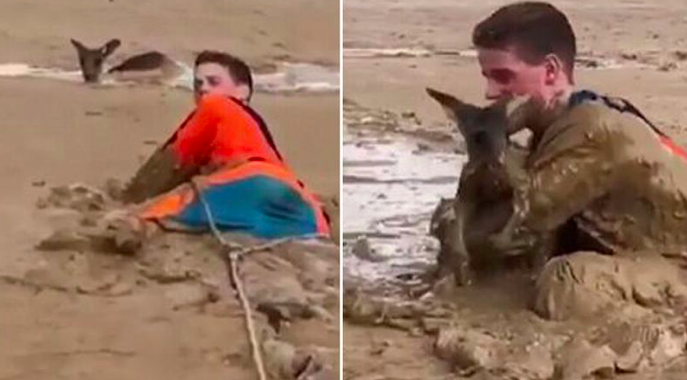 Heath tied the rope around his waist and moved toward the kangaroo. He grabbed onto the animal, at which point Donnelly started pulling on the roughly 100-foot long rope. Together, they freed the kangaroo and pulled him to safety, with both Heath and the animal covered in mud.
"The roo's life was important to us so we went out on an arm and leg and got it," said Heath. "It's a pretty patriotic thing to do and we're proud of what we did. If we saw something like that again, we'll do it all over again."
After the rescue, the kangaroo was turned over to a wildlife rescue organization to get cleaned up and checked out medically. They believe the animal was stuck there for an extended period of time and suffering from dehydration.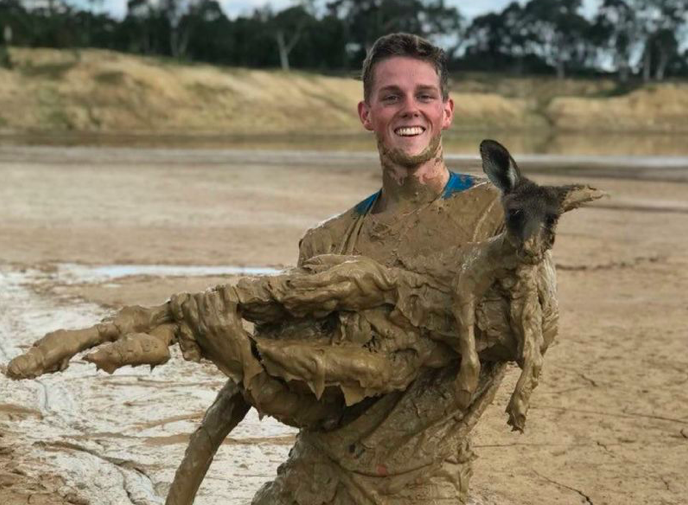 Fortunately, they expect the kangaroo to live. Of course, it was important that the teens were able to pull him out of the mud when they did.
"It was just good that they stopped and went to the effort of helping the poor thing," said Kerry Reynolds, Donnelly's grandmother.
The two teens decided to name the kangaroo they saved Lucas.
[Images via 9news.com.au]