Southern California is currently experiencing a record-breaking heatwave, and there is no better way to cool down than with a delicious ice cream taco. Sweet Cup, an ice cream shop in Garden Grove is the latest to capitalize on the popular rolled ice cream trend but has also added a flavored taco to the mix.
Sweet Cup offers buyers the chance to choose from a variety of bright colors for the edible taco shell, such as original, green, black, blue, red, purple and more! Patrons can also ask for the ice cream in a regular ice cream cup if they want as well.
Sweet Cup offers patrons the chance to combine rolled ice cream with boba tea flavors like matcha, ube, black sesame and more. Some popular ice cream taco choices are S'mores Galore, Rainbow Road, Vietnamese Coffee, Birthday Cake, Mint Oreo, Strawberry Cheesecake, Monster Ink and many more.
Basically, the ice cream taco trend allows for a particular ice cream flavor to be flattened and then rolled up, before being topped with any type of topping imaginable and then wrapped in a soft, tasty taco shell. Ice cream tacos are also one of the many popular food photo snaps on Instagram. These ice cream tacos are full of color and taste, from sweet to savory and with toppings like whipped cream to sprinkles sour patch kids.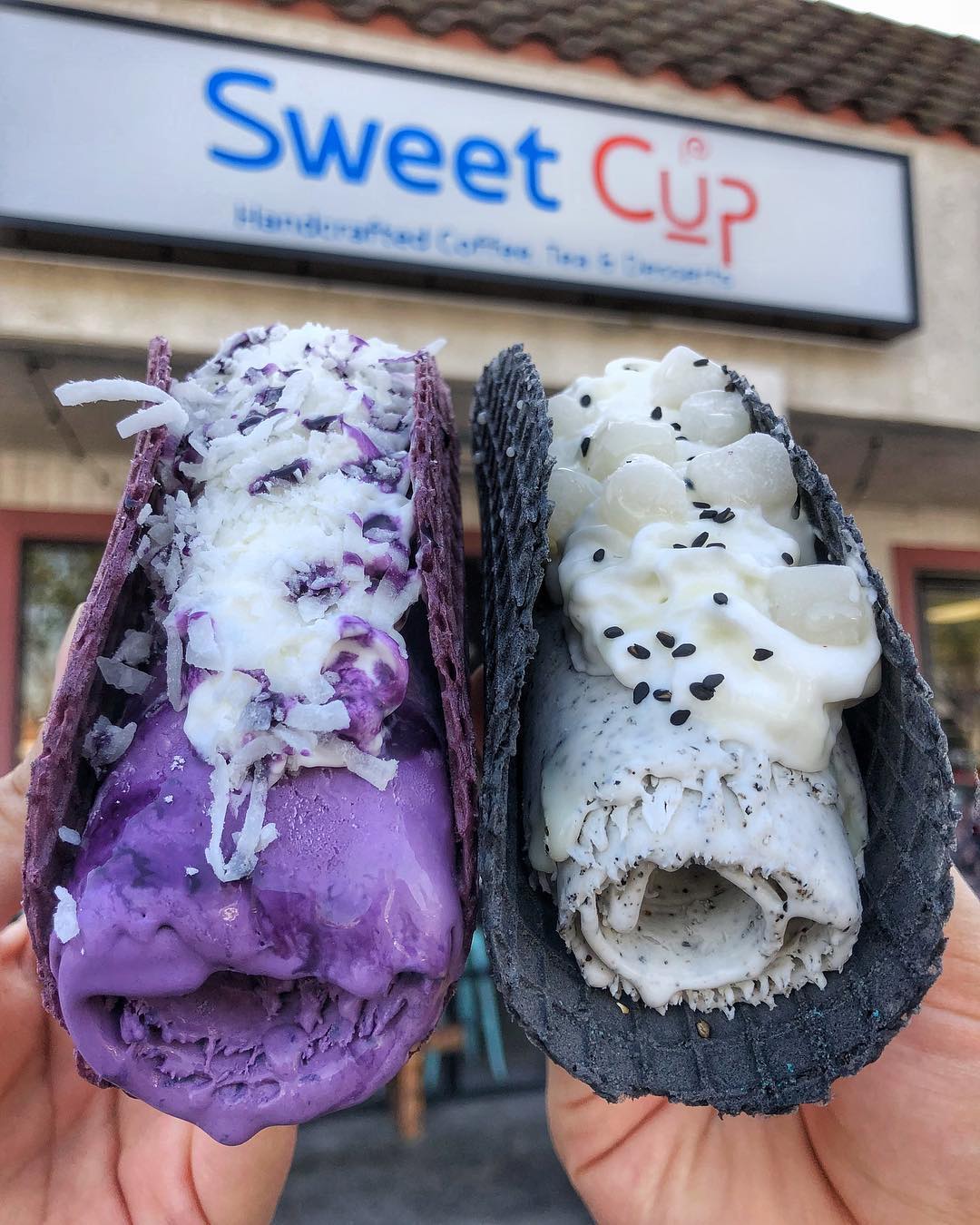 Right now, these delicious ice cream tacos are available on Tuesdays, bringing new meaning to the idea of Taco Tuesdays with mouth-watering desserts. Sweet Cup also keeps up with current food trends and that reflects in their menu. In 2017, charcoal and matcha ice cream tacos were added as menu items.
Currently, the ice cream tacos are about six dollars a piece, but the amount of Instagram likes you will get for the photos of your dessert is priceless.