Roasted Tomato Bruschetta with Pancetta and Ricotta
A good bruschetta is a nice compliment to a meal of soup or a light salad. The key is to find excellent tomatoes that are in season, as they are the cornerstone of the dish.
While this dish is simple to prepare and fun to assemble, the majority of the work comes with the prepping of the ingredients, like slicing and toasting the bread and preparing the pancetta.
Ingredients
10 ounces multicolored cherry tomatoes
8 slices of country bread, (1/4-inch  and toasted)
2 garlic cloves, thickly sliced
4 thin slices of pancetta
1 pound fresh ricotta cheese
5 tablespoons extra-virgin olive oil
Salt
Pepper
4 thin slices of pancetta
 Sage leaves
Directions
1) Preheat oven to 325 degrees. Put the tomatoes in a bowl and toss them lightly with olive oil, salt, pepper, and garlic as desired. Line a baking sheet with parchment paper and add the tomatoes to only one side of the baking sheet. Take the thinly sliced pancetta and lay them out on the other side of the sheet.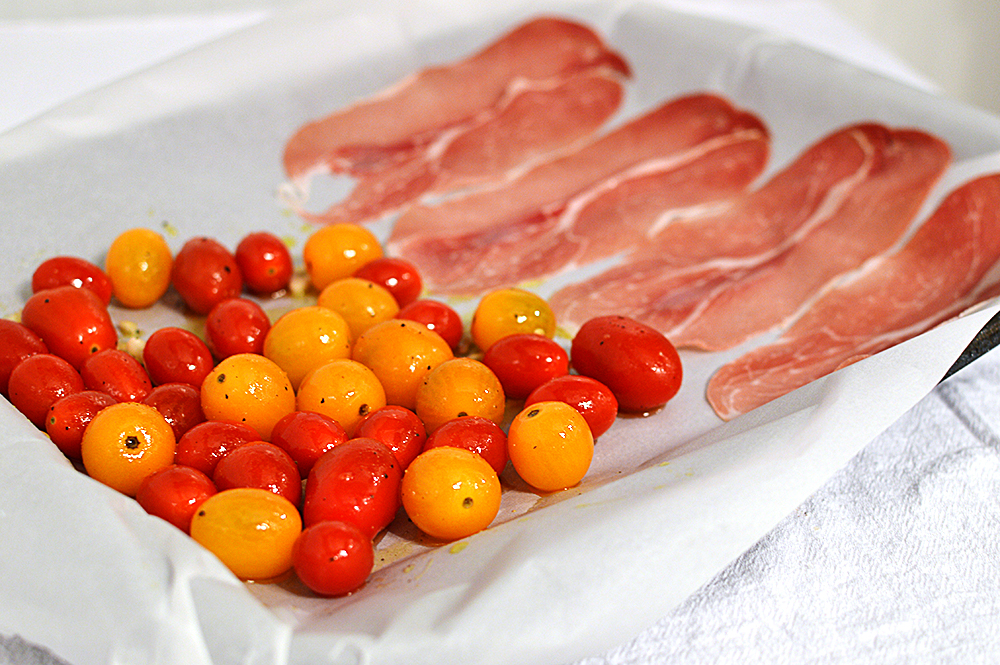 2) Bake for about 25 minutes or until pancetta is crisp as desired. Remove the pancetta and place it on a paper towel to drain and more easily crumble. Return the tomatoes to the oven for another 10 minutes, or until they begin to burst open. Then remove tomatoes and place them in a small bowl.
3) In a skillet, heat 1/4 cup of olive oil over medium heat and fry sage leaves for about 45 seconds until they are bright green. Then place on paper towels to drain.
4) If not already sliced, slice the bread and lay it out on the plate after toasting if desired. Spread the ricotta over the toasted slices evenly, then add pancetta crumbles to each piece. Drizzle with olive oil, salt, pepper, and transfer tomatoes to the top of the slices. Then add sage leaves to the top.