If you're eager to see Sylvester Stallone play the violent ex-soldier of John Rambo one more time, you're in luck. Stallone will be playing the iconic character for a fifth film that is now starting to film. But this John Rambo is going to be a much different version, trading in the red headband for a cowboy hat.
Recently released photos reveal that Stallone's Rambo for the fifth film will be seen in country attire and riding a horse. Why? Refer back to 2008's "Rambo" which not only featured Stallone back in bulk to do some slaughtering in the jungle but also finally brought him back home to America, seemingly bringing an end to his hiding and the denial of where he belonged. It seemed like a happy ending for a movie saga where Stallone brutally slaughtered many. But, as seen in "First Blood," John's war seems to always follow him, even when the real war is over.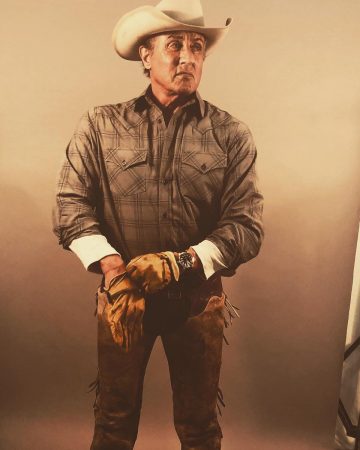 The fifth Rambo film had been kicked around for years after 2008's "Rambo" and there were a lot of wild ideas tossed around, including one wacky version where John Rambo fought Predator. But it's looking and sounding as if this (hopefully) final chapter will let the character's story die with dignity. It's also not surprising to see such a revival; consider that Stallone revived Rocky in 2006's "Rocky Balboa" and passed the torch in 2015's "Creed" as a Rocky spin-off.
While Stallone directed the previous Rambo movie, Adrian Grunberg ("Get The Gringo) will be directing this installment. "Rambo 5" is currently set to debut sometime in 2019.