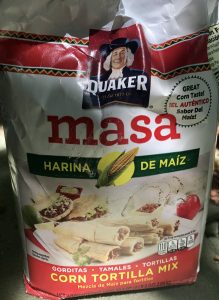 A while back, I bought a big bag of masa harina, a maize flour traditionally used for tortillas, so I could make cornbread. Cornbread was delicious, but then I was left with most of the masa bag left. I really only make cornbread to serve with chili and as the summer heat settles in, that won't be happening anytime soon. I decided to make muffins instead, and came across a recipe by Donna Currie on the Cookistry website. She filled the middle with a spicy fruit preserve, but I prefer sweet flavors, so I used Trader Joe's new Peach Bellini jam. It's a really sweet jam with an amazing white-wine aftertaste and I think it goes beautifully with the masa muffins, which are not sweet on their own. Here's how to make my version:
Ingredients for a 12-muffin batch:
1 cup Bob's Red Mill whole-wheat flour
¾ cup masa harina
2 tablespoons raw sugar
1 teaspoon salt
2 teaspoons baking powder
1 cup whole milk
1 egg
½ cup vegetable oil
1 teaspoon of peach bellini jam (per muffin)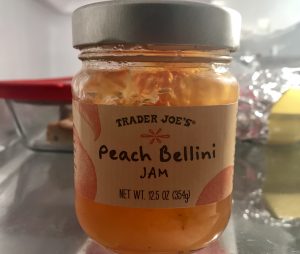 Preheat your oven to 400-degrees. In a bowl, mix the flour, masa, sugar, salt, and baking powder together. In a separate bowl, mix the milk, egg, and vegetable oil. Mix the wet ingredients into the dry using a heavy standing mixer or a hand mixer until the batter is just combined. Grease a muffin tin and fill cups halfway full. Add 1 teaspoon of jam into the center, then evenly top with the rest of the batter. You can use any type of jam you want; I bet raspberry or strawberry jam would be really delicious. If you want to reduce the sugar in this recipe, use a reduced-sugar or sugar-free  jam. 
Bake for 10 minutes and then check on the muffins. They should be getting brown on the edges, and when you stick a toothpick into them, watch for any raw dough clinging on. When baked through, cool before serving with butter and more jam, if you want more peachy-sweet goodness!
Nutritional Info (per muffin):
Calories: 194
Protein: 4
Carbs: 22
Fat: 11
Sugar: 7