It's been quite some time since Illumination's yellow creatures graced the big screen for more than just an introduction or a short. The creatures first debuted in the villain comedy Despicable Me in 2010 and quickly became a hit with young audiences. The success of the film led to the sequels of Despicable Me 2 (2013) and Despicable Me 3 (2017), as well as the prequel film Minions (2015) which focussed specifically on the characters more than on the villain-turned-good-guy Gru. If you adored little Gru in Minions, though, you'll get a whole lot more of him in the new Minions movie.
Minions: The Rise of Gru is a sequel to 2015's Minions and will follow the antics of Gru's rise to supervillainy with his gang of minions. Steve Carrel returns to voice Gru in this new adventure filled with much of the same stuff audiences have come to expect from this series. There are plenty of slapstick, gadgets, heists, themed villains, and juvenile humor to make most kids cackle with delight.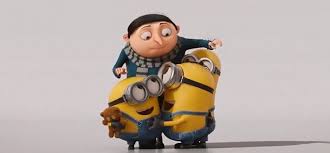 The film itself has been delayed for quite some time. It was originally supposed to release in the summer of 2020 but was pushed back to 2021 due to the Covid-19 pandemic. That 2021 date was pushed back to 2022 as the year grew crowded with many backlogged movies aiming to release in theaters. Universal knew this movie would be a moneymaker and they're finally ready to pull the trigger in the ripe month of July, primed for family movie-going.
Check out the new trailer below:
Long before he becomes the master of evil, Gru (Oscar nominee Steve Carell) is just a 12-year-old boy in 1970s suburbia, plotting to take over the world from his basement. It's not going particularly well. When Gru crosses paths with the Minions, including Kevin, Stuart, Bob, and Otto—a new Minion sporting braces and a desperate need to please—this unexpected family joins forces. Together, they build their first lair, design their first weapons, and strive to execute their first missions.
Minions: The Rise of Gru will be hitting theaters everywhere on July 1st, 2022.