If you're looking to add a craft desk to your workspace, skip idea and use that craftiness to just build it yourself! We'll show you how below.
This is a great sturdy desk with ample storage for all your crafting items, and the best thing about it is you can build it for under $125. So get our your table saw and your paintbrush and get started!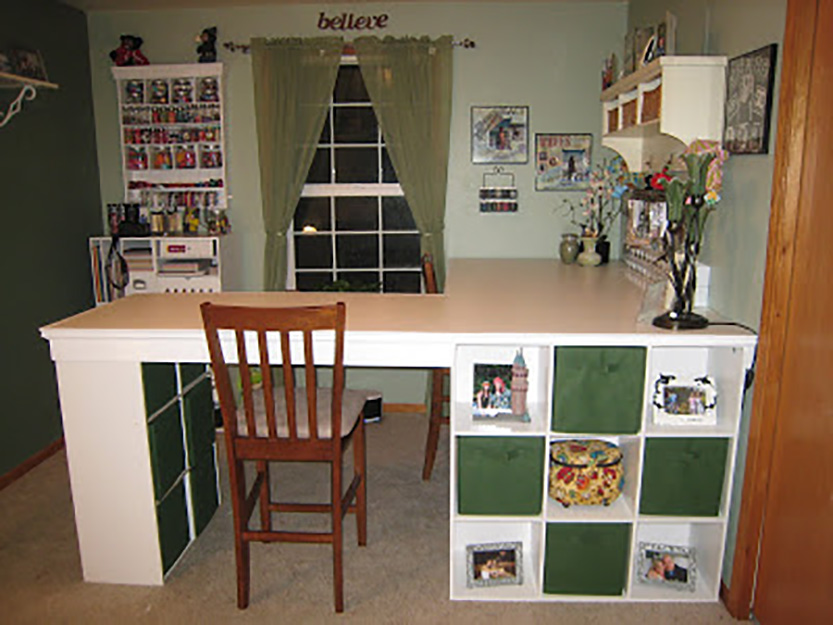 Materials & Tools
Materials Needed
2 – 4′ x 8′ X 3/4-inch thick sheets of MDF with Melamine top (Melamine is like a Formica)
3 – 12-foot 1″ x 4″ trim like Pine or your own personal choice of wood.
12 – bolts & nuts to secure 1″ x 4″ boards to cubicles
2 – 12-foot pieces of trim of your choice for the top edge
3-inch screws for the pieces of frame
1 quart of Killz primer in white
1 quart of white paint (I used cabinet and trim paint since it's high gloss)
1 tube of liquid nails
1 tube of Kwik Seal Caulk or hole filler
Handful of small finishing nails with no head on them
Tools Needed
Drill & drill bits to pre-drill holes in cubicles for bolts
Philips head for drill
Tape measurer
Caulk gun
A square
Hammer
Table saw to cut sheets of MDF and trim and frame
How To Build The Desk
Step 1.
Place the cubicles where you'd like them to be according to how big you want your craft desk to be.
Step 2. Main Desk:
Drill two holes on each side of the 9 cubby cubicles about 3 inches apart. Make sure that you drill your holes a little bigger than the bolts you'll be using to connect the 1″ x 4″ boards to it. Then measure and cut your boards so that they will be flush against the cubicles at all ends. On the 1″ x 4″ board towards the front of the main desk, you will cut it 1″ shorter so that the other side of the desk frame will be flush when you frame that side. For the center, you will cut more 1″ x 4″ boards for extra stabilizing and prevent sagging of the MDF in the future.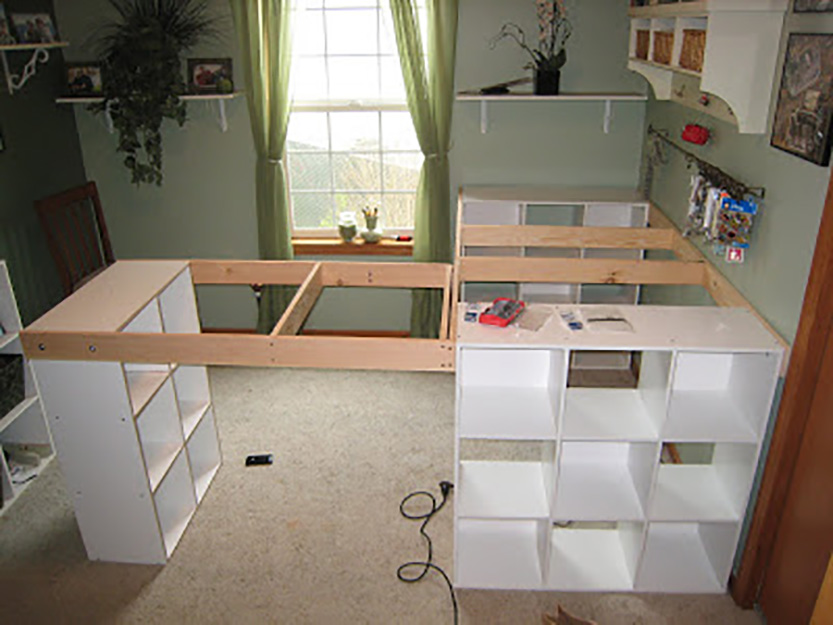 Step 3 Side Desk:
Drill two holes on each side of the 6 cubby cubicle in the same fashion as the first set. Attach both boards to opposite end with 3-inch wood screws. Then place 1″ x 4″ boards in the center one in the middle and one about 1 inch from the end.
Step 4:
Take measurements once everything is framed up. Cut your sheets of MDF to fit exactly on the top of the frame you built with no overhang. The top should be flush with the frame. This will be done in 2 separate pieces. Test the top out to make sure it was cut right, then remove it. Take your liquid nails and the caulk gun and apply it to all raw wood on the frame on the main desk portion. You don't need to apply it to the cubicles, but you can if you like. Do the same for the side desk, except add some liquid nails to the end piece that will butt up against the main desk to adhere both pieces together.
Step 5:
If you used pine or similar wood for the frame, you may have some imperfections or the area around where you cut it may be rough. Take a piece of sandpaper and go over the wood to get it smooth with no splinter. After this is done, you may add trim to it with finishing nails to the edge of the desk that will be flush with the desk. I used a 1 inch trim for the top.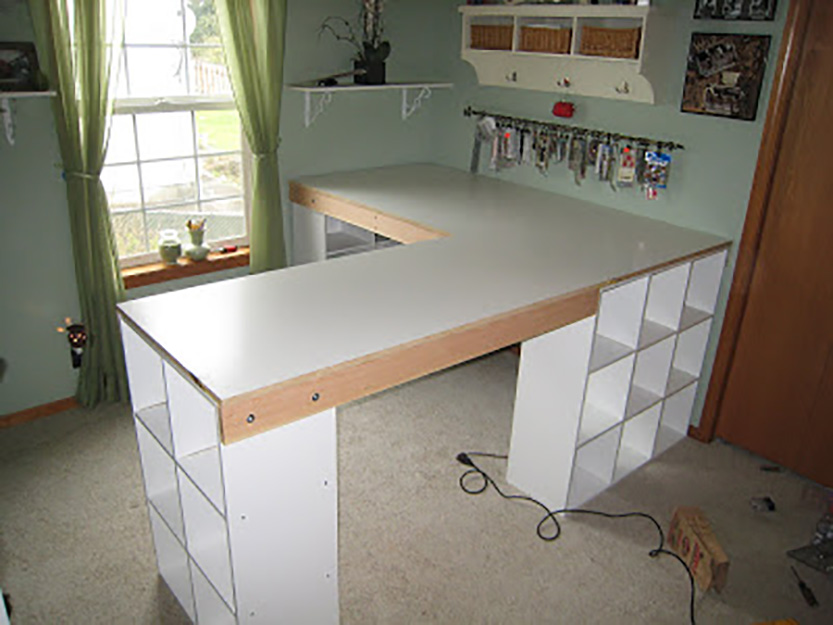 Step 6:
Take some regular Kwik Seal Caulk to fill in the little finishing nail holes. Next, take your white primer and put 2 coats on the frame and trim. I waited 30 minutes in between each coat. Then apply your finish coat of paint. I applied two coats of a high-gloss cabinet and trim paint since its durable and easy to clean.
All set! Get to crafting!