We've been reporting over the past few months that MoviePass is dying. At this point, they're practically terminal as their money dwindles and more robust services of AMC Stubs will be pushing them out of the movie theater subscription game. If you need further proof, just take a look at their latest numbers for app downloads. The news isn't good.
The data from Sensor Tower Store Intelligence revealed that over the past three months the MoviePass app has seen a 76% drop in downloads. This is yet another nail in their coffin after the piling problems of losing money, raising prices, facing outages, limiting movie availability and the mass exodus of subscribers from the service.
Take a look at their chart of failures below: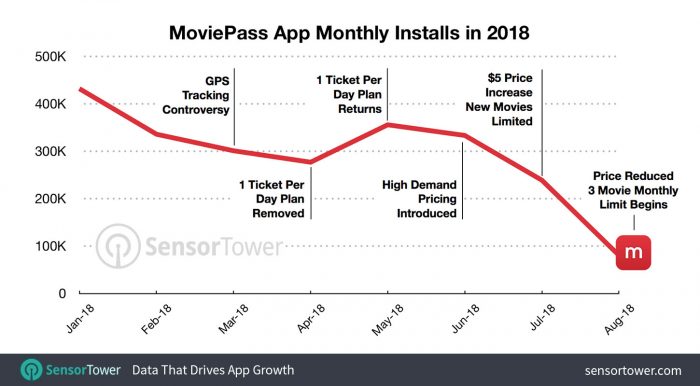 It's clear to see from this graphic that MoviePass's strategies thus far have not been working. Their app downloads descended from 300k all the way past 100k and there are no signs of it slowing its descent any time soon. Absent from the chart, too, was the issue with subscribers being prevented from canceling their subscriptions which put an extra sour taste in the mouths of customers as they headed for the door.
It's not a matter of if MoviePass will fail at this point, but rather when. Their business is already crumbling and on fire, made worse by their broken down website and a ridiculous investment in producing movies that up to this point have all tumbled at the box office. Netflix they are not. I'll be surprised if the company even survives to the end of 2018 at this point.