On a time crunch for dinner tonight, but still don't want to sacrifice taste and quality, or submit and go the takeout route? Here are three 15-minute recipes you can try tonight. There's something here for everybody!
Each of these quick dinner recipes makes clever use of store-bought ingredients – bagged coleslaw, jarred pepperoncini, frozen tortellini – and will be ready in no time. Let's get started!
Stir-Fried Pork With Cabbage, Peanuts, and Lime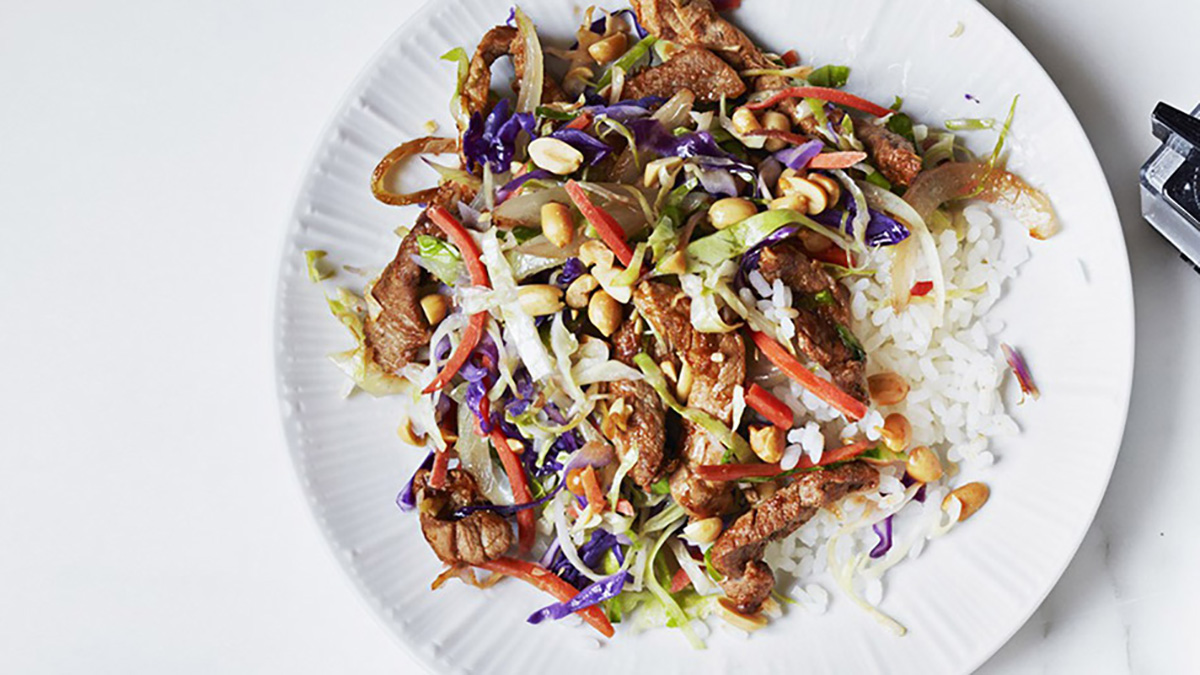 Ingredients
2 1/2 tbsp. vegetable oil, divided
1 small onion, thinly sliced
1 pound thin boneless pork chops
Lime zest, plus lime wedges for serving
1 package coleslaw (14 to 16 ounces)
1/2 tsp. kosher salt
1/2 tsp. ground black pepper
1 Tbsp. ketchup
1 Tbsp. soy sauce
1/2 cup chopped roasted peanuts
Steamed rice, for serving
Directions
In a very large skillet, heat 2 tbsp. oil over medium-high heat. Add onion, cover and cook until browned, about 4 minutes. Meanwhile, cut pork into 1/3-inch-wide strips and finely grate 1/2 tsp. lime zest. Uncover skillet and add coleslaw. Toss a few times and push to side of skillet.
Add remaining 1/2 tbsp. oil and sliced pork in an even layer. Season with salt and pepper, and cook until browned on the bottom, about 1 minute. Stir in ketchup to coat pork; cook until pork is no longer pink inside, about 1 minute more. Add soy sauce and lime zest, and toss to combine. Remove from heat, top with peanuts and serve over rice with lime wedges.
Chicken With Hot and Sweet Peppers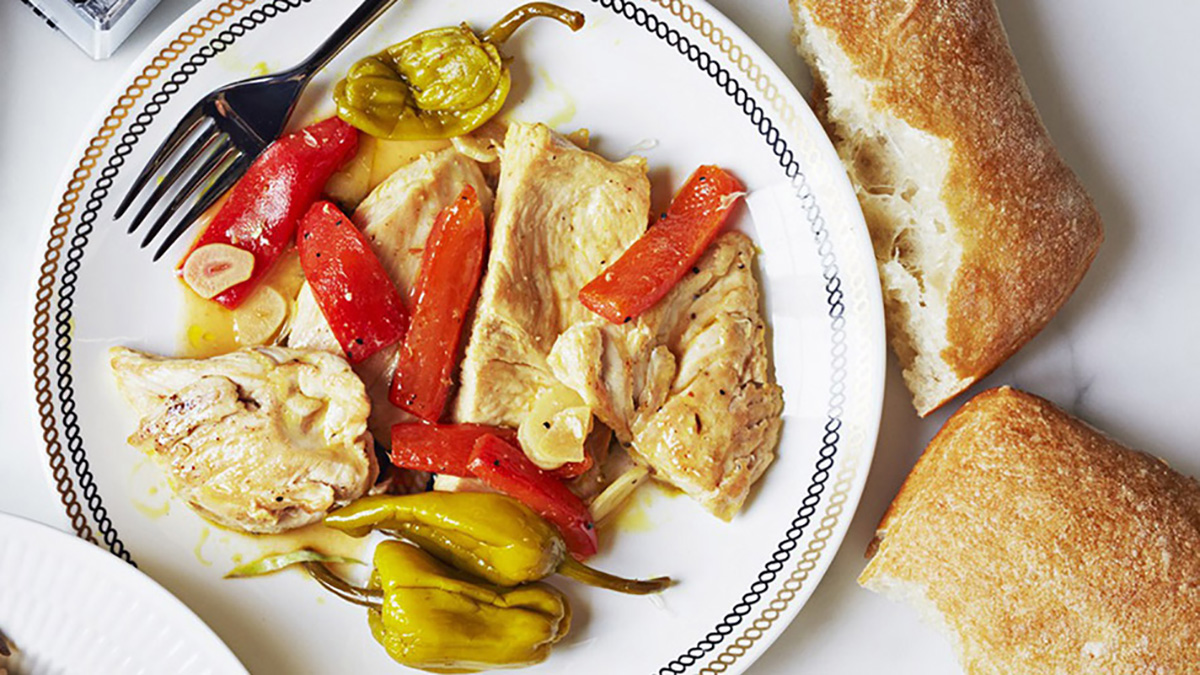 Ingredients
2 tbsp. olive oil
1 pound thin chicken cutlets, cut crosswise into 3″-wide slices
1/2 tsp. kosher salt
2 garlic cloves, thickly sliced
2 roasted red bell peppers, cut into 1/2″-wide strips
12 jarred pepperoncini, with 3 tbsp. of their pickling liquid
2 tbsp. unsalted butter
Crusty loaf of bread, for serving
Directions
In a large skillet, heat olive oil over high heat. Add chicken in an even layer. Season with salt, and scatter garlic in pan. Cook until chicken is golden brown, about 2 minutes. Turn chicken and cook about 2 minutes longer. Add roasted peppers, pepperoncini, and pickling liquid to skillet and simmer about 1 minute, or until chicken is just cooked through. Remove skillet from heat and swirl in butter. Serve with bread.
Cheese Tortellini With Bacon and Asparagus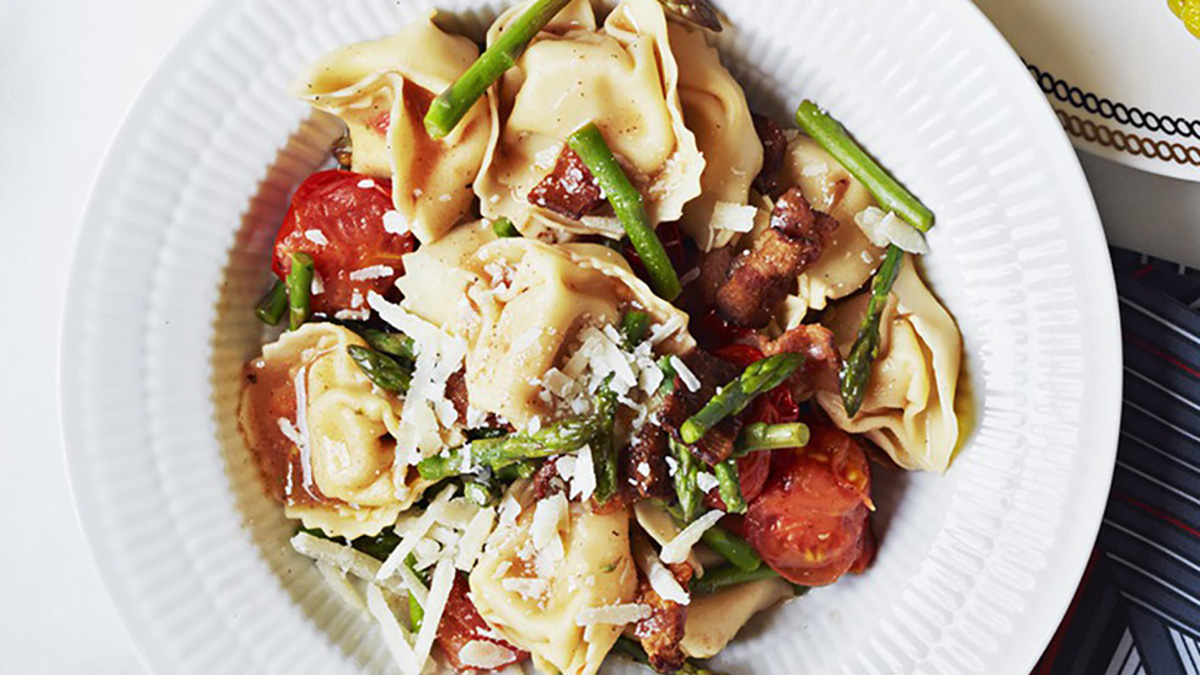 Ingredients
Kosher salt
4 slices bacon, cut into 1″ pieces
1 pound asparagus, trimmed
3/4 pound frozen cheese tortellini
1 cup cherry tomatoes
3 tbsp. grated Parmesan
1/4 tsp. ground black pepper
Directions
Bring a large pot of salted water to a boil. In a large skillet, cook bacon over medium-high heat until crisp, about 2 minutes per side. Meanwhile, cut asparagus into 2″ lengths. Transfer bacon to a plate. Add asparagus and 1/8 tsp. salt to skillet, cover and cook over medium heat until tender, about 4 minutes. Meanwhile, cook tortellini in boiling water until al dente, about 6 minutes. Cut tomatoes in half and add to skillet; toss until heated through. Reserve 1/4 cup pasta cooking water and drain tortellini. Add tortellini to skillet and toss well. Slowly add reserved pasta water to skillet, tossing. Remove skillet from heat and stir in Parmesan and reserved bacon. Season with 1/4 tsp. salt and pepper and serve.