Cereal is one of the most beloved breakfast foods and snacks available for kids, and it comes in a wide variety of flavors and textures. Many of the popular cereals include Froot Loops, Apple Jacks, Frosted Flakes and many more.
Kellogg's recently-introduced Jumbo Snax, which are large versions of popular cereals in snack form which people can easily take on the go. These new Jumbo Snax will be available in four different flavors which are all popular cereals. The four flavors are Apple Jacks, Tiger Paws which are similar to Frosted Flakes, Corn Pops caramel crunch, and Fruit Loops. 
Each new flavor will be available for sale in boxes of 12 individual packs. interested customers can buy an entire flavor in one box. Each pouch will contain several jumbo-sized stereo pieces which are the perfect bite-size snack.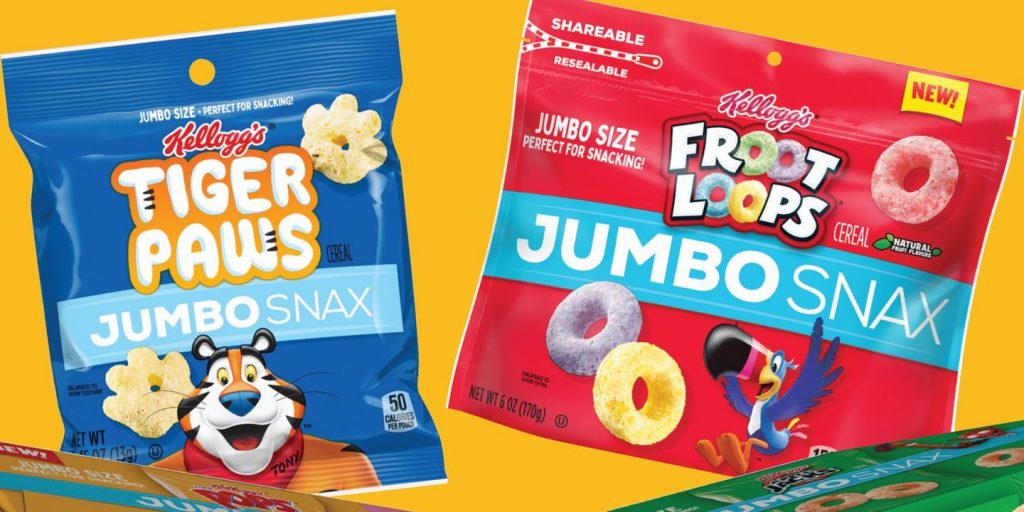 Jumbo Snax will be available in two different sizes. Each new flavor will be available in six-ounce resealable bags as well as half-ounce bags which will be sold in 12 packs. The smaller bags will have a retail price of $4.99 and the larger bags will have a price of $5.49.
 Kellogg's has confirmed that all four flavors of Jumbo Snax will be available in cereal aisles across the country by May 2020. They will be available in all major grocery store chains like Kroger as well as regional grocery stores, and even some major retailers like Target and Walmart. These new cereals will not be limited edition items, so they will be in stores to stay.
Both kids and adults will enjoy these Jumbo Snax, as they are basically small bags of cereal with large sized cereal pieces. They can be eaten on their own or you can get creative and enjoy them with a nice glass or bowl of milk. Each bag will only have about fifty calories and a nice dose of nostalgia.