Like every president and First Lady before them, Donald and Melania's every move has been overanalyzed by journalists, the American people, and commentators across the board; it comes with the territory.
By the middle of 2017, several instances of strange behavior between the pair had been recorded and shared around the web. Everyone wondered why Donald and his wife seemed to act in such strangely different ways from one public appearance to another. Their body language and actions seemed to demonstrate some sort of gap, leaving room for plenty of speculation and analysis.
Over Here And Over There
It didn't take more than a day for the Trump marriage to confuse everyone. On Inauguration Day, people around the world were stunned when the couple exited their vehicle and Donald abruptly outpaced Melania. He walked the stairs to approach the Obamas, leaving his wife behind to scale the steps alone. Later in the day, Melania presented signals that could only be interpreted as stiff, uncomfortable, and even sad.
The Trumps have posed just like this in plenty of photos, and it's usually Melania that's giving off an icy stare. As a model, though, she knows how to give face—she might just prefer to strike an editorial pose instead of an authentic smile.
Soon after, #SaveMelania and #SadMelania were among the top trending hashtags on Twitter.
Different Expressions, Different Feelings?
An April 2017 Vanity Fair feature dissected everything, building a linear timeline and compiling what seems to be empirical evidence that something has always been off. A Trump insider told the publication that Melania never wanted her husband to run for the presidency and that she was terrified of what might happen if he won.
Separate Bed Speculations
Us Weekly reported that Donald and Melania sleep in separate rooms at each of their homes. Whether or not that's normal is subject to personal opinion, and it's also denied by the First Lady and her spokesperson.
Body language experts have picked apart photos and videos of the pair. At times, there are interesting observations to be made, while at others, it seems that their "findings" can be chalked up to overanalysis. Consider these shots: In one, Melania forces a smile that falls into a frown; In another, she swats Donald's hand away after he offers it to her.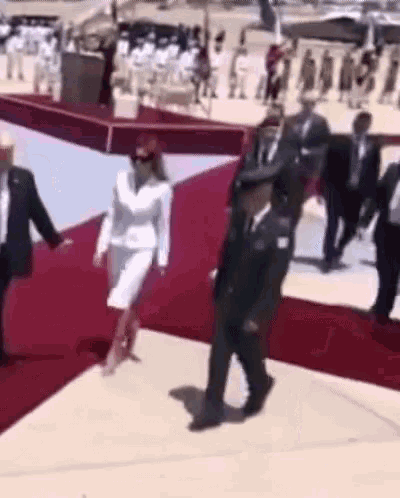 Melania's spokesperson Stephanie Grisham has repeatedly denied that there's any trouble in paradise for the couple. "Mrs. Trump is a loving wife and mother who has always put her family first and that will not change," she told the Huffington Post in April 2017.
Whether or not they're a happy couple, the Trumps have been inconsistent in their actions while they're making public appearances. True, nobody is perfect, and it's okay to be cautious in the spotlight.
Still, First Families have historically put on carefully crafted exteriors. Far be it from Donald Trump and his family, though, to adhere to social and political norms.