In the mood for something salty and sweet? This caramel apple pretzel pie is just the dessert you need.
For the pretzel dough:
3 1/2 cups warm water, divided

2 tablespoons sugar

1 package active dry yeast

1/2 cup butter, melted

1 1/2 teaspoons salt

5 cups all-purpose flour

2 teaspoons baking soda

2 tablespoons pretzel salt
6 large Granny Smith apples, cored, peeled and sliced

1/2 cup sugar

1/8 cup lemon juice

1 teaspoon cinnamon

1/2 teaspoon salt

4 tablespoons all-purpose flour

1/2 cup salted caramel

30 salted caramel chews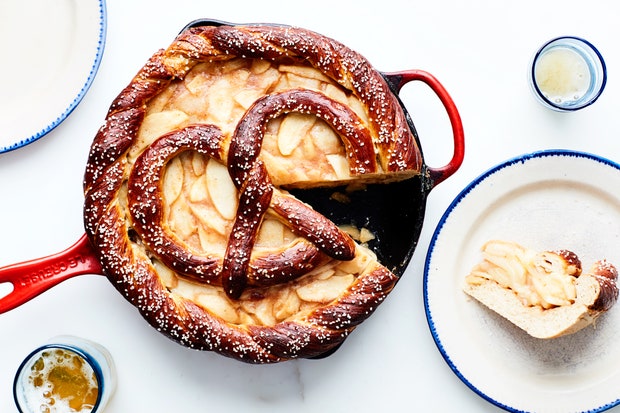 Here are the instructions that you need to follow to complete this pie:
    1. Make the pretzels: In the bowl of a stand mixer fitted with the dough hook attachment, add 1 1/2 cups warm water, sugar, yeast and melted butter, and mix until combined. Let sit for 4 minutes until foamy. Add flour and salt and knead until dough is smooth and doesn't stick to the sides of the bowl. Remove from the bowl and form into a ball. Place in an oiled bowl and cover with plastic wrap. Let rise until dough has doubled in size, approximately 1 hour.
    2. Make the caramel apple pie filling: In a large bowl, combine apples, sugar, lemon juice, cinnamon, flour and salt. Add salted caramel and mix thoroughly, taking care to cover apple pieces evenly.
    3. Assemble the pie: Preheat the oven to 425 degrees, and grease a 12-inch cast-iron pan with butter.
    4. Divide the proofed dough in half. Roll half out into a 12 by 12-inch circle, and place the other half covered in the oiled bowl.
    5. Place dough in prepared cast-iron pan, being careful to leave a 3-inch border overlapping on the edge. Fill with prepared apple filling. Place salted caramel chews along the border of the pan, and wrap the overlapping pretzel dough around the caramel. Be sure to tuck in. Use the remaining dough to form a lattice pattern on top of the pie.
    6. Combine remaining water with the baking soda and use to brush the pie border. Sprinkle with pretzel salt. Bake pie for 55 to 60 minutes until crust is golden and apple filling bubbles.