If you're tired of never having a ready-to-go answer to the question "What's for dinner?", the Pinterest community has got your back. Even though you shouldn't believe every picture-perfect post you see on the web (#pinterestfail, anyone?), these recipes have been pinned and prepared so many times that they're practically guaranteed to satisfy.
So the next time you're craving a little foodie inspiration, try these meals on for size!
Healthy And Hearty Portobello Fajitas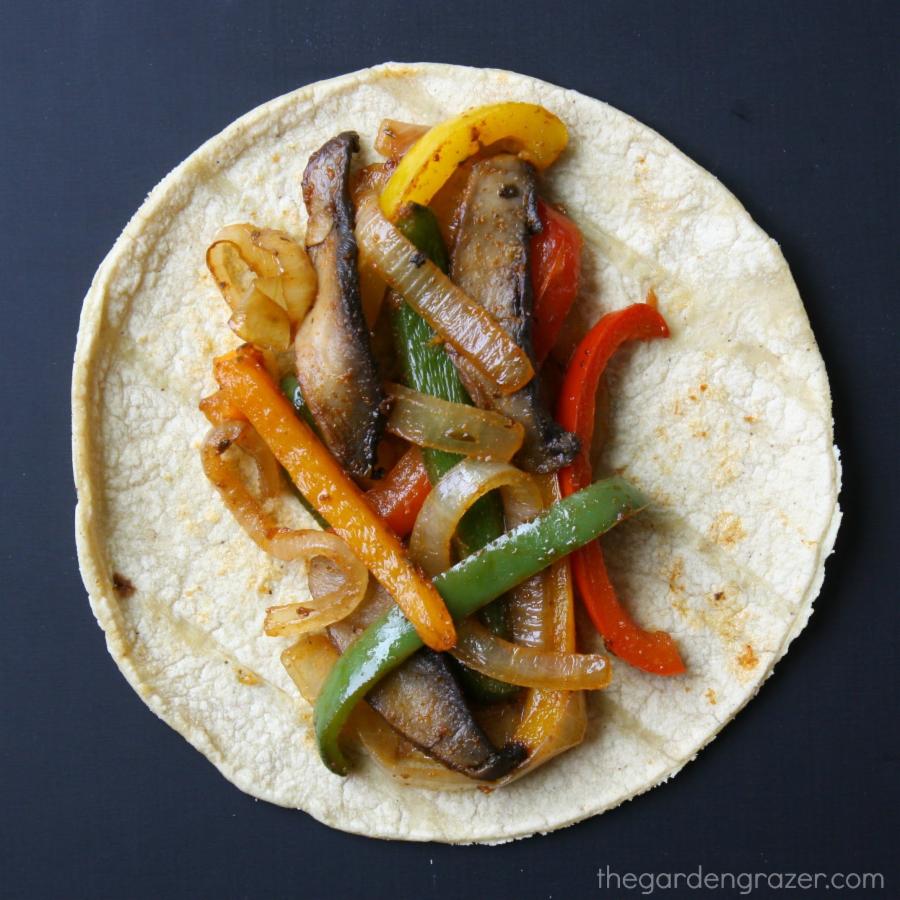 Whether it's Meatless Monday or Taco Tuesday, these simple savory fajitas are the perfect weeknight meal. Just throw the mushrooms together with some onions, peppers, and toppings of your choice (more guacamole, please!) and you've got dinner ready to faster than you can say "Olé!"
Recipe from the Garden Grazer
Ingredients
2-3 large portobello mushrooms
2 bell peppers
1 onion
1 Tbsp. taco seasoning (see below)
Juice of 1/2 lime
1 Tbsp. olive oil (sub water/broth for oil-free)
6 corn tortillas (or other tortilla)
Toppings of choice: avocado/guacamole, pico de gallo, dairy-free cheese, cashew sour cream
For the taco seasoning (yields about 3 Tbsp.)
1 Tbsp. chili powder
1 1/2 tsp. cumin
1 tsp. oregano
1 tsp. onion powder
1 tsp. garlic powder
1 tsp. paprika
1/2 tsp. salt
1/4 tsp. cayenne pepper (optional – if you like heat)
Directions
Remove stems of mushrooms, spoon out gills if desired, and wipe tops clean. Cut into about 1/3 inch thick slices.
Thinly slice bell peppers and onion.
Make taco seasoning if necessary (combine all ingredients in a bowl).
In a large skillet over medium heat, add 1 Tbsp. olive oil (or water/broth for oil-free) and the peppers and onions. Cook about 2 minutes.
Add mushrooms and 1 Tbsp. taco seasoning.
Stirring occasionally, cook another 7-8 minutes or until softened. Add juice of 1/2 lime (or more) and stir. Salt if necessary and turn off heat.
While the veggies are cooking, prepare your toppings of choice.
Warm the tortillas if desired.
Spoon the fajita mixture into the center of tortillas, and serve with toppings of choice.
No Clean-Up Baked Salmon With Pesto And Veggies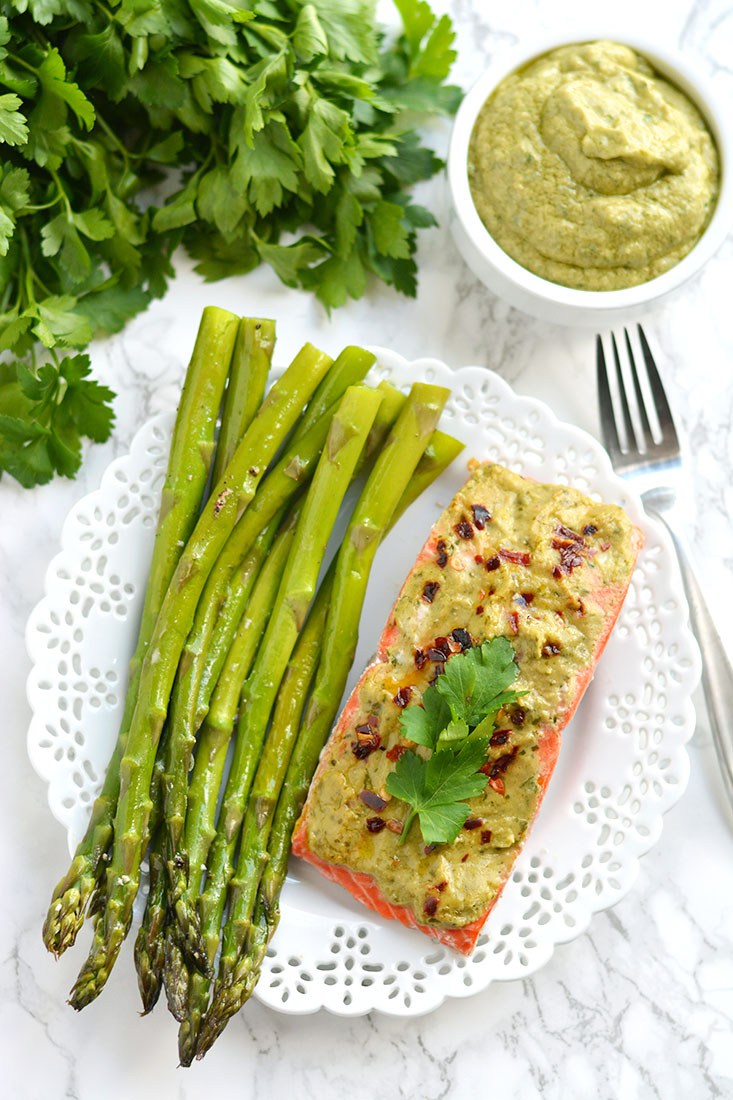 When you want to treat yourself to a nice dinner without having to worry about cleaning a mess of pots and pans afterwards, you need to try this foil-wrapped recipe hack. Heart-healthy salmon and packs of fresh veggies bake together in this genius recipe that's totally customizable to make it just the way you like it. One word of advice: Don't skimp on the pesto!
Recipe from Cooking Classy

Ingredients
4 (6 oz) skinless salmon fillets
1 1/4 lbs fresh green beans, ends trimmed or 1 lb (medium/thin) asparagus, tough ends trimmed
3 tsp olive oil, divided
Salt and freshly ground black pepper
4 Tbsp pesto, homemade or store-bought (half of the homemade recipe will be enough)
4 tsp fresh lemon juice
1 pint grape tomatoes, halved
Directions
-Preheat oven to 400 degrees. Bring a pot of water to a boil. Cut four pieces of aluminum foil into 14-inch lengths. Boil green beans 3 minutes, then carefully drain (asparagus doesn't need to be boiled before baking).
-Toss green beans (or asparagus) with 2 tsp olive oil and season with salt and pepper to taste, divide into 4 servings and layer in center of each piece of foil. Season both sides of salmon with salt and pepper. Layer salmon over green beans and then spread 1 Tbsp pesto over top. Drizzle 1 tsp lemon juice over each fillet. Toss tomatoes with remaining 1 tsp olive oil and season lightly with salt. Spread over each salmon fillet. Wrap sides of foil in and roll and crimp edge to seal, then wrap ends upward to seal (don't wrap too tightly you want the heat to be able to circulate well).
-Place side by side on a baking sheet and bake in preheated oven until salmon has cooked through, about 20 – 28 minutes (cook time will vary depending on thickness of salmon and desired degree of doneness).
Creamy, Creamless Chicken Parmesan With Sun-Dried Tomato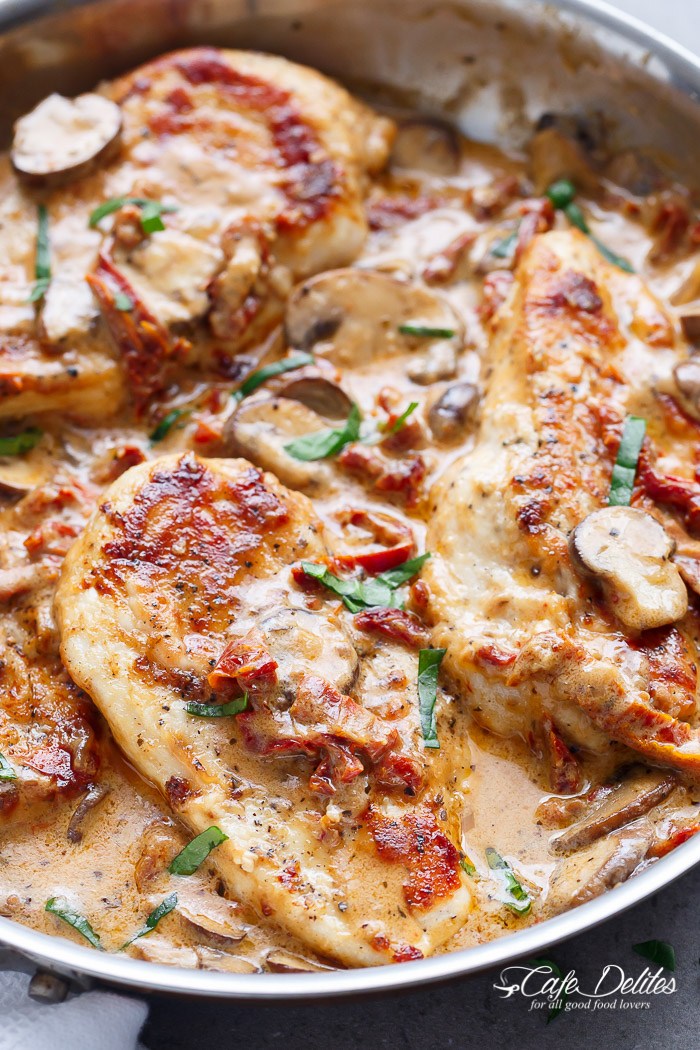 Hello, heaven in a bowl. Won't you pull up a seat and stay a while? This unbelievable cream sauce is made lighter and guilt-free with just a little bit of milk and cheese, but still packs in a full flavor profile. This is the recipe to make when you're trying to get the whole family to eat healthier, but there's still that someone who's skeptical that anything good for you can actually taste good.
Recipe from Cafe Delites
Ingredients:
For The Chicken:
2 large boneless and skinless chicken breasts, halved horizontally to make 4 fillets
2 tablespoons tapioca flour (or all purpose or plain flour/s)
2 tablespoons finely grated fresh Parmesan cheese (do not include for dairy free option)
1 teaspoon salt
Cracked pepper
For The Sauce:
2 tablespoons reserved sun dried tomato oil (or olive oil)
2 tablespoons minced garlic
200g | 7oz jarred sun dried tomato strips in oil, drained (reserve 2 tablespoons of oil for cooking)
1 cup sliced mushrooms (250 g | 8 oz)
1½ cups milk (reduced fat or full fat milk) OR evaporated milk*
1 tablespoon cornstarch (cornflour) mixed with 2 tablespoons of milk**
⅓ cup fresh grated Parmesan cheese (do not include for dairy free option)
2 teaspoons Italian herbs (optional for added flavor)
2 tablespoons fresh shredded basil, to serve
Directions:
-In a shallow bowl, combine the flour, parmesan cheese, salt and pepper. Dredge in the flour mixture; shake off excess and set aside.
-Heat 1 tablespoon of the reserved oil in a large skillet over medium-high heat until hot. Fry the chicken until golden on each side, cooked through and no longer pink (about 5-6 minutes each side, depending on the thickness of your chicken). Transfer onto a warm plate.
-Add the remaining 1 tablespoon of oil to the skillet; sauté the garlic until fragrant (about 1 minute). Add the sun dried tomatoes and mushrooms; fry until the mushrooms are just soft.
-Reduce heat to low-medium heat, add the milk (or cream if using) and bring to a gentle simmer, stirring occasionally. Season with salt and pepper to your taste and add the milk/cornstarch mixture to the centre of the pan. Continue to simmer while quickly stirring the mixture through until the sauce thickens. (Only use cornstarch if using milk for your sauce.)
-Add in the parmesan cheese; allow sauce to simmer for a further minute until cheese melts through the sauce. Add the chicken back into the pan; sprinkle with the fresh basil and a little extra pepper (optional), and serve over pasta, rice or steamed veg.

NOTES
*Substitute milk with almond, rice, oat, or coconut milk. Alternatively, use half and half or a reduced fat cream. If using cream in place of milk, do not add the cornstarch mixture. You won't need it.
**For a gluten free option, find GLUTEN FREE Cornstarch where available