One of the best things about summer is firing up that grill, but there's no reason to stop at chicken and burgers. If you're ready to take your grilling to the next level, we've got some delicious dessert recipes for you to try.
Grilled Angel Food Cake with Pineapple, Coconut, and Caramel
1/3 cup sweetened coconut flakes, toasted
Oil, for grill grates
4 wedges of angel food cake, about half of a store-bought bundt
4 pineapple slices
Caramel sauce for drizzling, your favorite
Instructions
To toast the coconut flakes:
Preheat oven to 350°F and line a rimmed baking sheet with foil or parchment paper. Place coconut flakes in a single layer on the sheet. Toast for 5-10 minutes, or until the coconut flakes are golden-brown and just becoming fragrant. Remove from the oven and let cool completely.
To grill:
Heat a clean grill to medium heat and brush your preferred cooking oil on grates. Place angel food cake wedges and pineapple slices on grill.
Grill angel food cake wedges for about 2 minutes, or until grill marks appear on the bottom side. Flip and repeat on the other side, then remove to a plate.
Repeat the same grilling process for the pineapple slices, however, it may take an extra few minutes per side.
To assemble:
Place one angel food cake wedge on a plate, and top with one pineapple slice. Drizzle with caramel sauce and sprinkle toasted coconut flakes over top. Serve while warm.
How to not screw it up:
It's important to oil the grill grates so the angel food cake and pineapple slices don't stick!
Grilled Donuts With Mint Julep Dip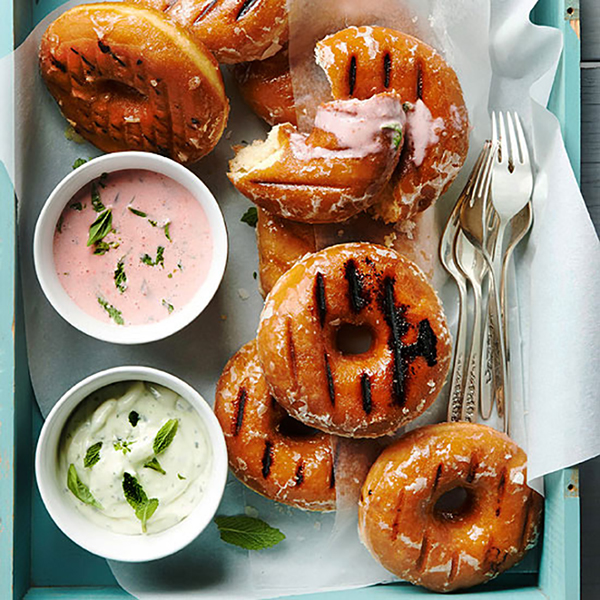 8 glazed doughnuts
Nonstick cooking spray
1 recipe Mint Julep Dip
Heat charcoal or gas grill to medium-low. Coat doughnuts with cooking spray. Grill doughnuts, covered, until lightly browned, 30 seconds to 1 minute per side. Watch closely to avoid burning. Serve grilled doughnuts with Mint Julep Dip.
Mint Julep Dip
6 tablespoons sugar
1 tablespoon packed fresh mint leaves
6 ounces cream cheese, softened (3/4 cup)
1/4 cup milk
2 tablespoons bourbon
Instructions
In a small bowl combine sugar and mint leaves. Using a wooden spoon mash mint and sugar until fragrant, 30 seconds to 1 minute.
In a blender container or food processor combine sugar mixture, cream cheese, milk, and bourbon. Cover; blend or process until smooth, stopping to scrape down sides as necessary. Serve immediately.
Campfire Grilled S'more Calzone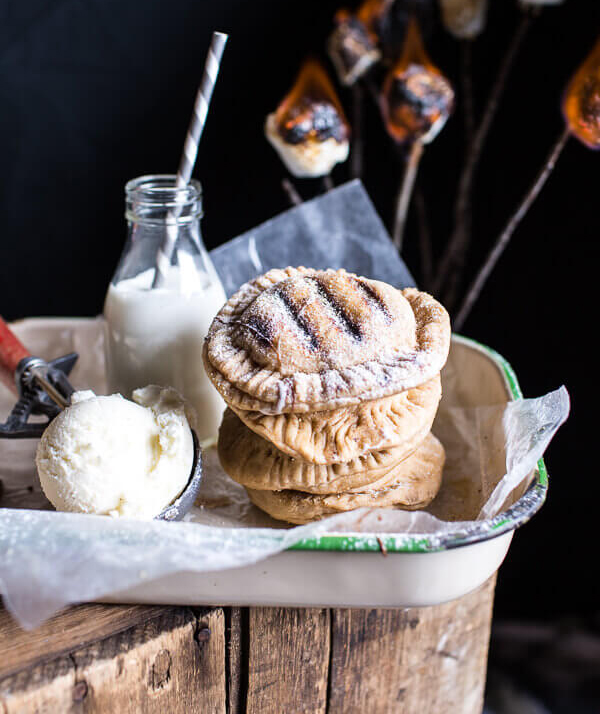 Dough
1 cup warm water
2 tablespoons honey
2 1/4 teaspoons active dry yeast
2 cups white whole wheat or whole pastry flour, may also use all-purpose flour
1 cup all-purpose flour
1 teaspoon ground cinnamon
1 tablespoon olive oil
1/2 teaspoon salt
The S'more
1 pound batch of the above dough or 1 store bought pizza or pastry dough
2-4 Hershey's Milk Chocolate Bars
10 marshmallows
finely-crushed graham crackers and powdered sugar for dusting
vanilla ice cream for serving
Dough Instructions
In a large bowl, combine water, yeast, and honey. Mix with a spoon, then let sit until foamy, about 10 minutes. Add the 1 1/2 cups whole wheat flour, all-purpose flour, cinnamon, salt and olive oil, stirring with a spoon until the dough comes together but is still sticky. Using your hands, on a floured surface, form the dough into a ball and work the additional 1/2 cup flour into the dough if needed. All of the mixing and
All of the mixing and kneading can also be done in a stand mixer with the dough hook attachment. Next, rub the same bowl with olive oil, then place the dough inside, turning to coat. Cover with a towel and place in a warm place to rise for about 1 hour.
The S'more Instructions
Divide the dough into 10 equal size balls. Then either roll the dough out into a 6-inch circle or divide the balls into two and roll into 2 (3 1/2 inch) circles. Working on one side of the dough or with one dough round, add two pieces of chocolate. Flatten one marshmallow and place it on top of the chocolate. If desired add another two pieces of chocolate (I did).
Now either take the top half of the dough and fold it over the filling or add the top round of dough. Crimp the edges of the dough to seal. At this point, the s'mores can be placed on a floured cookies sheet, covered and stored in the fridge overnight or until ready to cook.
Preheat the grill to medium-high heat or the oven to 375 degrees F.
Brush the top and bottom of each s'more with melted butter. If baking the s'mores, line a cookie sheet with parchment and place the buttered s'mores on the baking sheet. Bake 15-20 minutes or until lightly golden.
To grill, add the buttered s'mores to the grill and grill for 2-3 minutes per side.
Serve the s'mores warm, dusted with graham cracker crumbs, powdered sugar or even served with ice cream!