The new season of Game of Thrones has finally started, and what better way to celebrate than making this royal recipe inspired by our favorite show?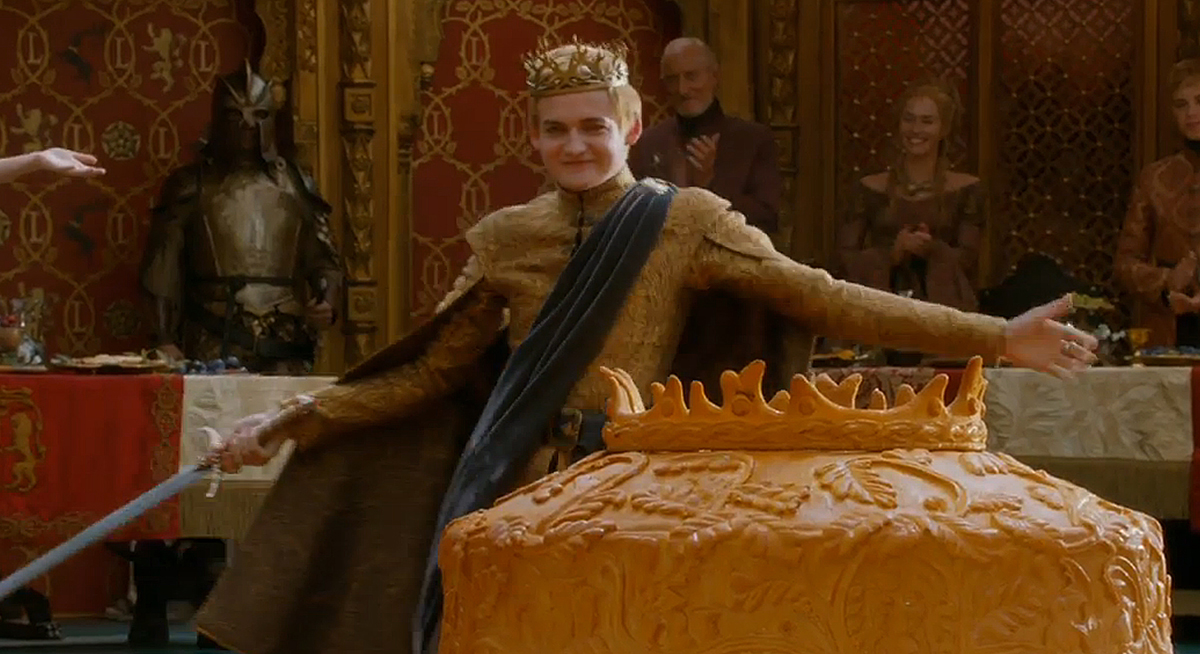 This pie is best served warm with a goblet of wine laced with the poison of your choice.
Purple Wedding Pigeon Pie With Wild Game
Ingredients
2 pounds squab breasts
1 pound wild boar, cut into 2" pieces
1 pound rabbit, cut into 2" pieces
3 cloves garlic, crushed
1/2 Vidalia onion, diced and sautéed
2 teaspoons finely chopped sage
2 tablespoons finely chopped rosemary
2 tablespoons finely chopped thyme
1/4 cup dried cherries, soaked in Madeira wine
1/2 cup sliced mushrooms, sautéed in butter
1/4 cup apple, finely chopped, sautéed in butter
16 ounces all purpose flour
3 1/2 ounces bread flour
1 teaspoon salt
6 ounces lard
7 ounces water
6 slices of bacon, cut in half
1 egg, beaten
Grain mustard (optional)
Directions
In a medium bowl, combine 1 pound of squab breasts with 2 tablespoons onion, 1 teaspoon rosemary, 1 teaspoon thyme, soaked cherries, 1 teaspoon of salt, and freshly ground pepper. Set aside, and repeat with wild boar: onion, 1 clove garlic, 1 teaspoon rosemary, 1 teaspoon thyme, 1 teaspoon salt, and pepper. With the remaining squab breasts, combine the apple, 2 teaspoons sage, 1 teaspoon thyme, salt, and pepper. Finally, with the rabbit, combine mushrooms, 2 teaspoon thyme, and 1 teaspoon rosemary. Keep all meats separate.
Preheat oven to 400F. Whisk together flours and salt in a large bowl. Bring lard and water to a bare simmer and add to the flour, stirring with a wooden spoon until a shaggy dough forms. Once it's cool enough to handle, knead until it forms a smooth, tacky dough. Roll out 2/3 of the dough to a 24" round, covering the remainder with a warm/damp towel, and drape over a liberally-greased and floured springform mold. Gently coax the dough down into the mold and press into the corners, patching as necessary to seal it. Begin filling the pastry – first with the cherry squab, a layer of bacon strips, then the wild boar, another layer of bacon, the apple squab, another layer of bacon, and the rabbit. Make sure the meat is pressed deeply into every corner, and roll out a knob of dough until it's the size of a lid for the pastry. Cover and pinch the edges, sealing like a pie. Cut a steam hole in the center of the lid, and decorate as desired with remaining pastry.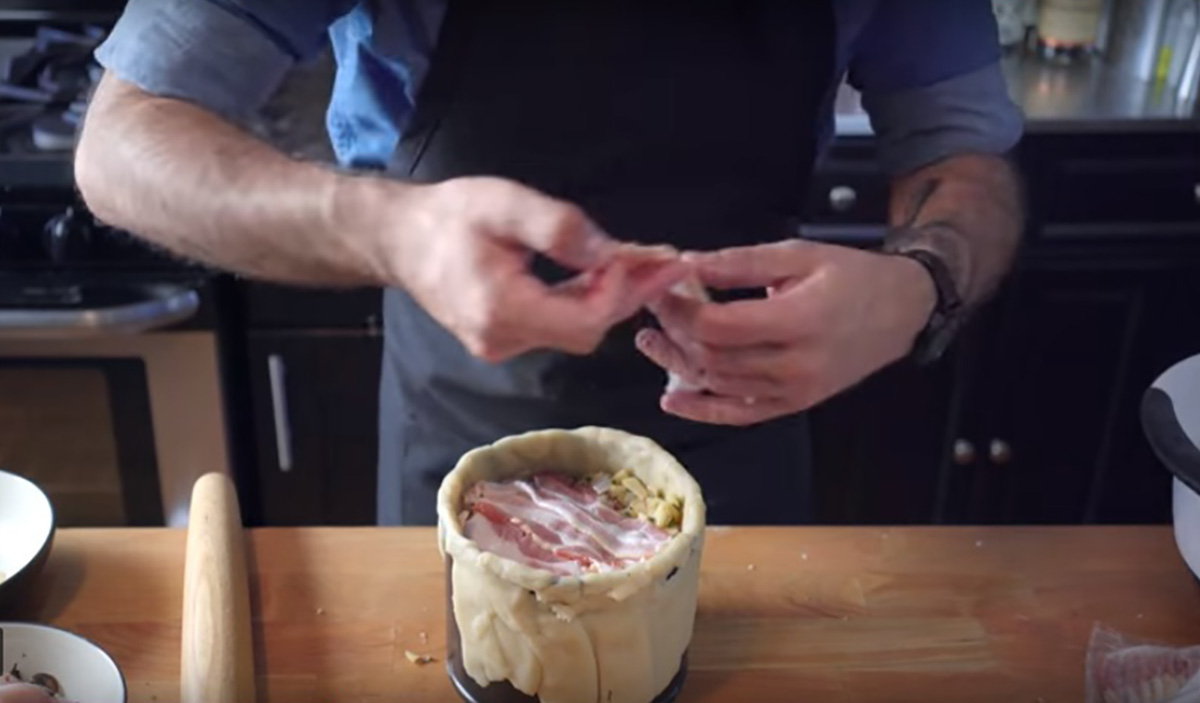 Bake pie for 30 minutes at 400F, then lower the temperature to 325F, baking for an additional 90 minutes, or until pastry is browned and filling reaches 165F internally. Trim the crust as necessary so the springform can eventually release – allow to cool for at least 2 hours before attempting to remove, ideally refrigerate overnight. Slice and serve with grain mustard.
MMM, Meat!