Kate Whalley-Hands, a native of South Africa, was flying from New York to Johannesburg on South African Airlines, but she couldn't quite coax her baby, 20-month old Imogen, to fall asleep. That was until flight attendant Mavis Xotongo stepped in to help.
"During the flight, Imogen was understandably struggling with the time difference," explains Kate. "She had been on a flight before because we used to live in London, but on this particular flight she was restless and crying."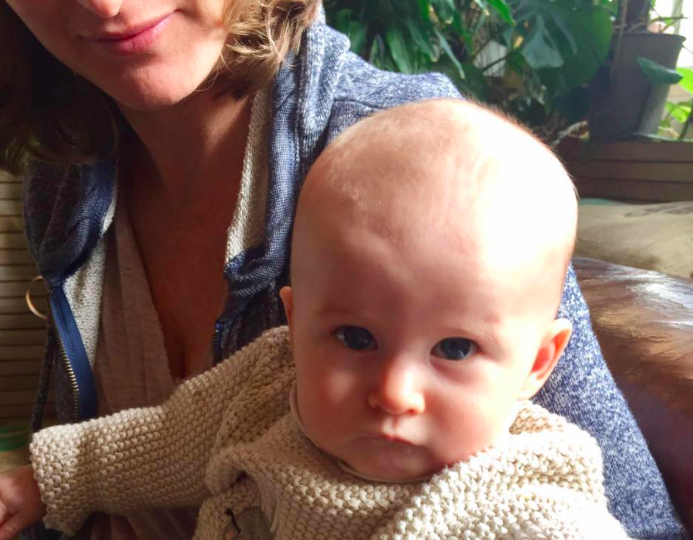 In the middle of the flight, Kate found herself in the gallery trying to rock Imogen to sleep with little success. That's when Mavis approached and offered to help. Touched by the gesture, Kate handed Imogen over to Mavis.
Mavis wrapped the baby girl in multiple blankets, tied the blankets to her person, and went about her work, allowing Kate to return to her seat. Within 15 minutes, Imogen was fast asleep.
"Imogen was so comfortable on Mavis' back," says Kate. "Mavis continued to help other passengers and (move) her trolley up and down, with Imogen on her back."
With Imogen sound asleep and strapped to Mavis' back, Kate was able to enjoy her in-flight meal. The other passengers on the plane also got a kick out of seeing one of the flight attendants going about her job with a baby on her back.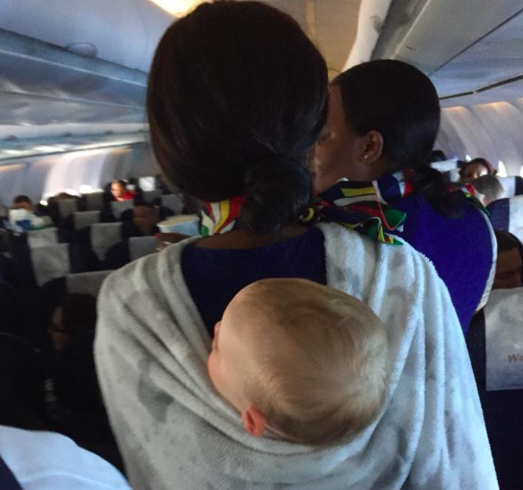 "It was completely amazing. I've flown many times and air hostesses just do their jobs. She went above and beyond the call of duty," said Kate. "While she carried the baby, you could see the smile on the faces of other passengers."
After she landed in her native South Africa, where she and Imogen traveled to visit her mother, Kate shared her story on Facebook. The post has since been shared over 8,000 times.
After the post went viral, both Kate and Mavis expressed their delight in the story bringing positive attention to South Africa.
"I love what I do and I do it out of passion for our airline and our customers," said Mavis. "We rise together and look forward to the positive path ahead."
[Images via Kate Whalley-Hands]