Netflix has dabbled in adapting popular anime franchises into live-action counterparts. This happened previously with Death Note and is happening soon with the debut of Cowboy Bebop in live-action form. Future projects are already in the works to bring One Piece and Mobile Suit Gundam to the platform. Gundam is one of the older franchises being tapped and a live-action Gundam project has been in the works for quite some time.
Mobile Suit Gundam first aired on Japanese television in 1979. Taking inspiration from Star Wars, the show told the story of an intergalactic civil war between humans who lived on Earth and humans who lived in the manmade colonies of space. Amuro Ray became the teenager who was forced into the role of piloting the Gundam, a giant robot who could win the war of the Earth Federation versus the colony faction of Zeon. Though the show was canceled prematurely, a trilogy of recap films captivated theater audiences and Gundam became a runaway hit with various sequels, films, miniseries, and spin-offs. A handful of such Gundam media is already on Netflix including the Gundam movie trilogy as well as the latest Gundam film, Hathaway.
Production on the live-action Gundam project is finally starting to move forward. A piece of concept art has finally surfaced which displays how the Gundam will appear in the show. Take a look at it below: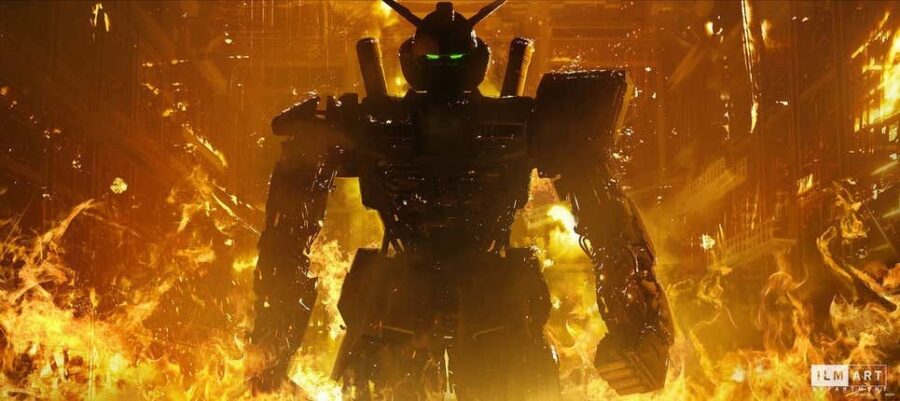 As you may have noticed from the logo in the corner, the visual effects are being handled by Industrial Light and Magic, the VFX studio behind visual effects for such films as Star Wars. Jordan Vogt-Roberts (Kong: Skull Island) will be directing the Gundam project.