20th Century Fox isn't quite done with the current troupe of X-Men yet. After helming the X-Men prequel trilogy that revealed the origins of the familiar characters ("X-Men: First Class," "X-Men: Days of Future Past," "X-Men: Apocalypse"), director Simon Kinberg adds one more entry to the saga with his prequel cast. And he's tackling one of the most notable arcs in all of the X-Men comic books with "Dark Phoenix," the saga helmed by Chris Claremont and John Byrne when Jean Grey's powers turned her into an unstoppable and dangerous force to all.
The first trailer has finally been released for the film debut out early next year. Watch it below and read the synopsis.
In Dark Phoenix, the X-Men face their most formidable and powerful foe: one of their own, Jean Grey. During a rescue mission in space, Jean is nearly killed when she is hit by a mysterious cosmic force. Once she returns home, this force not only makes her infinitely more powerful, but far more unstable. Wrestling with this entity inside her, Jean unleashes her powers in ways she can neither comprehend nor contain. With Jean spiraling out of control, and hurting the ones she loves most, she begins to unravel the very fabric that holds the X-Men together. Now, with this family falling apart, they must find a way to unite – not only to save Jean's soul, but to save our very planet from aliens who wish to weaponize this force and rule the galaxy.
As seen in the trailer, the principal cast of the last three films is all returning. Sophie Turner, having debuted as Jean Gray in 2016's "Apocalypse," will be front and center to become the hero-turned-villain Dark Phoenix, as hinted at in the previous film. James McAvoy is back at Professor Charles Xavier, now fully bald and wheelchair bound. Michael Fassbender is doing his usual thing as the villain Magneto, still eager to prove Charles wrong in his theories of mutants existing among humans. It's a little surprising to see that A-lister Jennifer Lawrence is still sticking around as the shape-shifter Mystique. Other returning actors include Nicholas Hoult, Tye Sheridan, Alexandra Shipp, Kodi Smit-McPhee and Evan Peters. The latest addition is Jessica Chastain as the shape-shifting being that transforms Jean into the Dark Phoneix.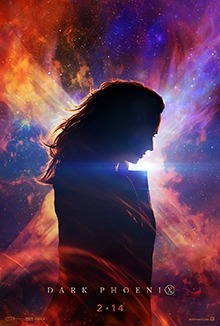 "Dark Phoenix" will be hitting theaters February 14, 2019.