If you're lucky, you've found yourself able to manufacture a lifehack entirely by your own doing. That's what 18-year-old Emma Young recently managed to do during a visit to her local nail salon. She was trying to pick a polish color and having trouble because the salon's color samples were posted to a flat board. (That makes it impossible to hold the color sample over your own nail and check it against your skin tone, etc.)
Emma solved that problem quickly, though, with some help from everyone's favorite photo sharing app. Here's how.
Trouble Picking A Color Until Snapchat Saved The Day
"I was looking at the nail options, and the nail salon I go to has them glued inside the book so you can't put your finger under it to see how it looks," Emma explained to Buzzfeed. She couldn't figure out how to sample a color over her own hands—that is, until she remembered the sticker feature that Snapchat recently rolled out.
She snapped a photo of the polish samples and trimmed out a few trial selections. The stickers are saved to a camera roll in Snapchat, so she dragged and dropped until she decided on the right color (see Emma's example at left in the second photo). Crafty, no?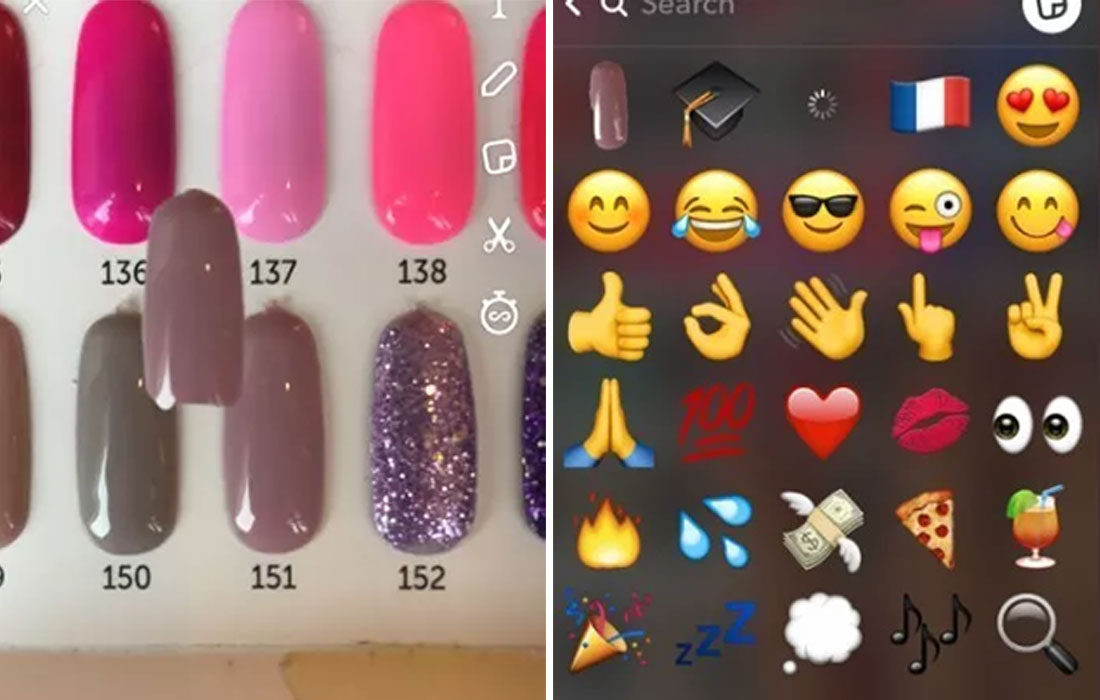 Twitter Loved It
Emma thought this was a funny solution to a pretty lighthearted problem, so she tweeted a roundup of the whole thing. Since she shared it, her post has received well over 100,000 retweets, and plenty of feedback from Twitter users.
"It's crazy so many people have responded to this," Emma told Buzzfeed. "Some people think it's awesome and other people think it's stupid, which is fine with me because I didn't take the tweet very seriously to begin with. It was just a lighthearted post about an idea that I had." Fantastic idea, young queen!