Starting in April and May, the fast-food chicken franchise, Chick-fil-A, will begin offering bottles of its famous sauces.  With this announcement, it is sure to put more people than just the Chick-fil-A cow totally over the moon.
In what some consider a somewhat bold, if not a long time coming, move, the franchise will be offering for the first time its famous signature sauce for customers to enjoy anytime they want. 
The popular chicken chain officially announced that they would be offering two varieties of its dipping sauces, by the bottle, at all of its locations in the state of Florida.
Starting as early as April, customers in Florida will have the option of purchasing a 16-ounce sized bottle of the franchise's signature Chick-fil-A sauce. 
One sauce is a tasty mixture of both honey mustard and barbecue, with the other choice being its sweet and spicy Polynesian sauce.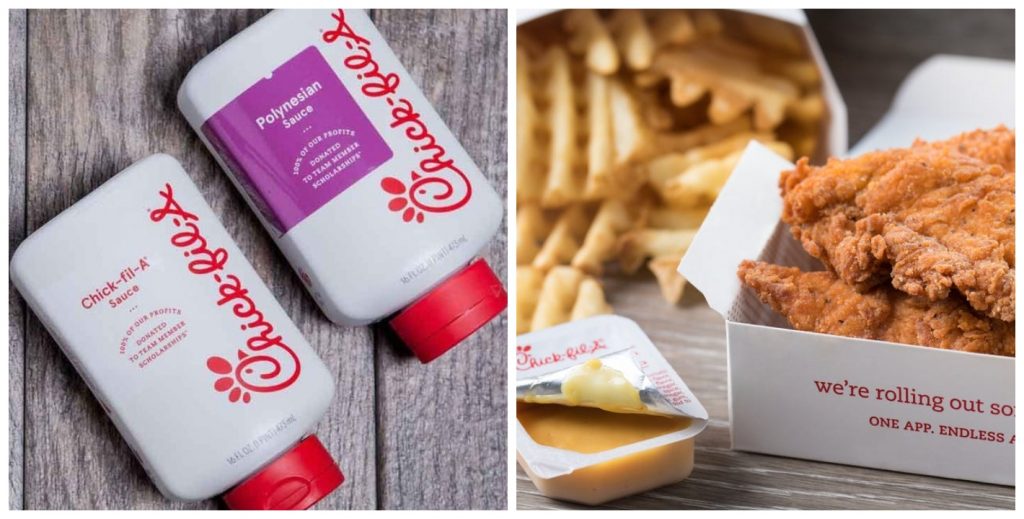 A spokesperson for Chick-fil-A stated that the two sauce varieties are the restaurant's most popular to date, and as such, they are the first to be offered up for sale at just $3.49 per bottle. 
Even more, news indicated that Chick-fil-A would also be taking the sauces into the supermarket realm, offering them at such popular restaurants as Publix, Target, Walmart and Winn-Dixie stores throughout the state of Florida as well.
The company also announced that starting as soon as mid-March, customers will be offered an additional perk. For those customers who call in orders of large amounts of chicken, they will also be able to nab an 8-ounce bottle of all of their dipping sauces, including Polynesian, Barbecue, Honey Mustard, and Garden Herb Ranch.
What makes this even better is that 100% of the money generated by the sales of the sauces will be entirely donated to Chick-fil-A's Remarkable Futures Scholarship Initiative. The initiative helps provide scholarships for the employees at Chick-fil-A.