When word got around that once again the Clancy's Dill Pickle Popcorn was once more gracing the shelves of Aldi, people completely freaked out. 
Instagram blew up, with such posts as "Dill Pickle Popcorn is back, and I can't wait to eat the whole bag with wine for dinner."  When you really think about it, what could be a more delicious pairing?
Now, it seems social media users have spotted a new popcorn display, and there is no doubt this one will appeal to those with a sweet tooth everywhere. 
Two Instagramers took to their pages, each posting photos of the front of the bags, displaying Clancy's Birthday Cake Popcorn.  The newest flavor is only available at Aldi's and on the Aldi's website.
One fan, who called the new flavor "so delicious," came out and admitted that they had no only finished one bag already, but two—entire bags adding that;
 "The taste was worth every penny!"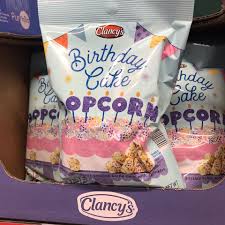 Another commented that they needed:
"a biiiiggg bag!"
The delicious popcorn consists of a birthday cake flavor that has been drizzled over kettle corn and then topped with sprinkles. The confection is only available in five-ounce bags. It is being touted as the perfect snack for those who are not wanting an entire slice of cake.
Instead of having to cut yourself a small slice of cake, you can just grab a handful and indulge in the sweetness every time that craving hits you. 
As if that isn't enough to have you headed to the store, someone made mention of how the flavor reminded them of "circus cookies," and the excitement blossomed even more.  
So, head out to Aldi's and stock up, as the low price of $1.99. But you had better hurry, as this snack is part of Aldi Finds, which means it will have limited availability and won't be around for long.