These three summer drinks from mixologist Alton Brown are a little lighter on the proof side and a little brighter on the flavor side. They take all take advantage of the fact that fruit is at it freshest peak this season. Enjoy!
Red Wine Sangria
Ingredients:
2 cups sliced fruit, any combination of apples, pears, strawberries, and plums
3 tablespoons sugar
1 cup brandy
2 bottles red wine, preferably Rioja or Grenache blend (see note)
1/2 cup orange juice
1/2 cup lemon-lime soda
Ice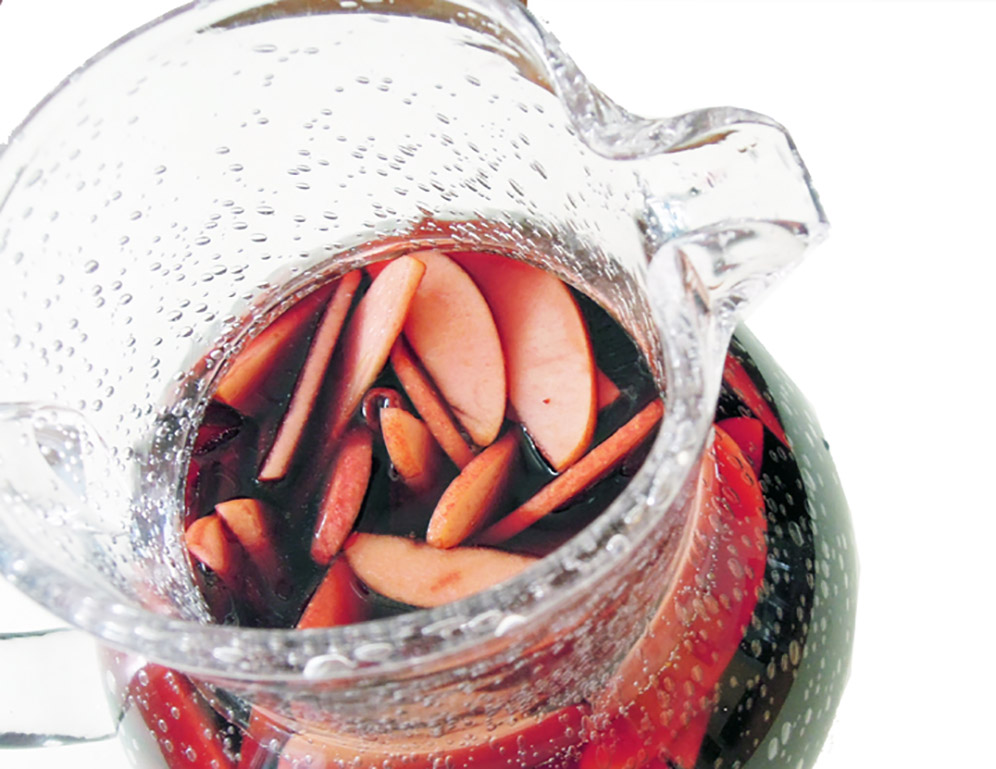 Instructions:
Place the fruit, sugar, and brandy in a 2- to 3-quart pitcher and stir to combine. Set in the refrigerator for 6 to 8 hours. When you're ready to serve, add the wine, orange juice, and lemon-lime soda, and stir to combine, then pour over ice and garnish with more fruit if desired.
Notes:
Grenache is one of the most plentiful grapes of the wine world, but due to some specific lacking (acidity for one) it's rarely bottled on its own, but rather blended. Many wines from the Southern Rhone employ high percentages of Grenache as do others from Spain. Increasingly you see it in wines called GSMs or Grenache/Syrah/Mourvedre blends.
Watermelon Negroni
Ingredients:
3 ounces London dry gin (I like Haymans)
3 ounces sweet vermouth (I'm a fan of Punte Mes)
8 Watermelon Campari cubes (recipe below)
For the Watermelon Campari cubes:
1 cup fresh watermelon juice
1 cup Campari
Instructions:
Place 8 Watermelon Campari ice cubes into a cocktail shaker and add 3 ounces each dry gin and sweet vermouth.
Shake for 10–15 seconds then serve in rocks glasses WITH the cubes and garnish with lemon twists.
Most standard ice cube trays hold two cups of liquid, so for one standard tray, stir together with a cup each watermelon juice and Campari and freeze overnight into cubes.
Notes:
Although you can simply blend and strain watermelon chunks for juice, I cut a hole in one end of a watermelon, insert a stick blender, and pull the trigger. It takes a couple of minutes and a bit of butter-churning up and down action, but you can basically liquefy the entire thing and with no mess. Then simply pour straight out into a strainer to remove the seeds and pulp.
Miami Mule
Ingredients:
2 ounces vodka
1/2 ounces fresh lemon juice
1/2 ounces blood orange juice
6 ounces ginger beer (not ale)
4 dashes grapefruit bitters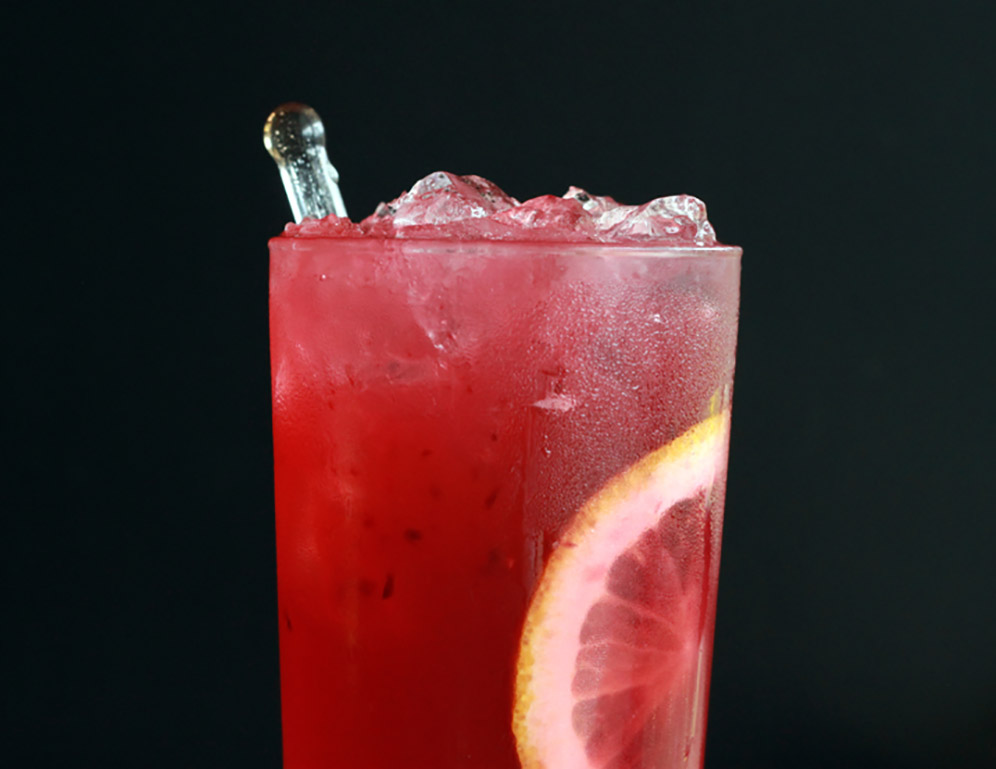 Instructions:
Pour into a highball or Collins glass filled with ice—vodka, followed by the lemon juice, blood orange juice, and top with the ginger beer and grapefruit bitters. Serve with a swizzle.