You've spent all day doting to another person's every need and yet they still need your undivided attention. Does that sound familiar? You're probably a mother. How do I know? Because I work from home  and my boss happens to wear a diaper and spends her mornings watching Mickey Mouse Clubhouse.
As a stay-at-home mom, I spend almost 24/7 with my daughter. As much as I adore her and love hanging out with her, spending all that time together can make us both crazy. Like any type of relationship, seeing too much of eachother can build a resentment and I don't ever want that between either of us..
If you can relate, I have some tried and true solutions to help keep your toddler busy that have worked wonders for us. I get my sanity back and my daughter has tons of fun.
Mess-Free Paint Activities
If you peruse Pinterest for baby/toddler friendly activities, chances are you'll come across the "paint in a bag" idea pretty quickly. It took not but two minutes after typing in "toddler activities for a rainy day" before I came across a list of fun mess free paint activities.
Of all the options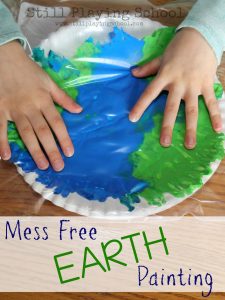 to choose from,  the one I was the most drawn to was this mess-free planet Earth craft (because NOBODY likes cleaning up a huge mess):
I'm always looking for more ways to encourage kids to go green and this is the perfect craft to introduce that idea. All you need is a large Ziploc bag, a paper plate and green and blue paint.
Put a few globs of paint around the paper plate, insert the plate into the bag and then watch your little ones go to town pressing and smearing the paint across the plate to make their own unique planet earth.
Shaving Cream ABC's
If I've learned anything at all since becoming a mother, it's that kids LOVE to make a mess. Instead of stressing over it, I've learned to embrace it. I remember tracing the ABC's in shaving cream when I was younger and I remember being so excited about playing with shaving cream even though it was "against the rules."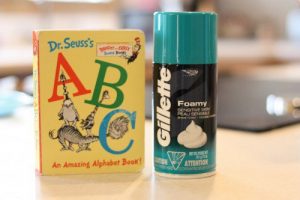 This is probably one of the easiest set-ups you'll ever come across. All you need for this is a hard surface (I suggest using a cookie sheet to make clean up a little easier) and cheap shaving cream (your local discount store probably has an aisle full).
Spray the shaving cream all over the cookie sheet or other surface and then you can let your little one have a blast tracing letters into the shaving cream glob. If your kiddo already knows their ABC's try having them write simple words in the shaving cream instead!
Cardboard Box Coloring Activities
Next to making a mess and causing a ruckus, I've also learned that toddlers are uncannily easy to please. Of all the toys my daughter has to play with, she always runs straight for the pile of receipts and junkmail on our living room table. The Lord only knows why, but this is the perfect thing to take advantage of.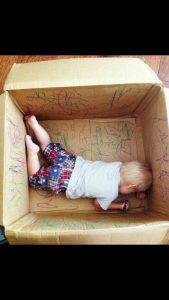 Back in my nannying days, this activity was a huge hit. All you need for this is a cardboard box big enough to fit your kiddo inside and a box of coloring utensils (markers, crayons, etc..)
I love this one because there really aren't any rules to it. Kids have complete creative freedom and this is a great way for them to let their imagination come to life.
It's important to teach kids that they don't need to rely on us to have fun. By introducing them to crafts like these, we are teaching them that playtime on their own can be just as fun, if not more, than always playing with mama or dada.