"A Star is Born" is already receiving plenty of buzz for awards season as we narrow in on its fall premiere. The trailer is everywhere, film websites are gushing with talk about it, and it's just to become an Oscar darling so adored that general audiences are sure to grow tired of its acclaim. From the older crowd, you'll most likely hear about how this story has been remade too many times since the 1937 original about one woman becoming a movie star to the 1954 take with Judy Garland, to the music career shift with the 1976 film starring Barbra Streisand.
Well, here's one more version as a series of clips from iconic Muppets of Kermit The Frog and Miss Peggy are synced to the trailer. And, wow, is it eerie how easily these many shots of Kermit strumming for Rainbow Connection gel with Bradley Cooper's country twanging. Check out the video on the Twitter account of Kevin T. Porter here. You can also check it out on YouTube, though the trailer audio has been removed for copyright reasons.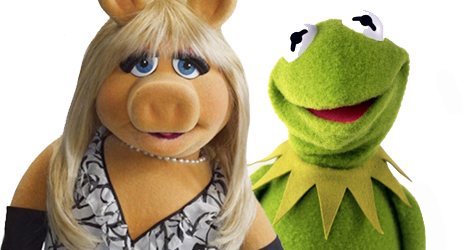 While just a clever editing job without adding the usual Muppet bite to parody, it does hold a certain romantic appeal considering how beloved these two puppets have become over the year. If the Jim Henson studio is willing to venture into raunchy noir as they did with "The Happytime Murders," maybe it's time for a more meaningful romance…sans the silly-string scene.