Fun fact: A protein-packed breakfast makes you feel fuller and satisfied longer than a carb breakfast like oatmeal and a banana.
If you don't want to start counting the minutes to lunch at 10:30, try one of these recipes. They're packed with protein and take less than 5 minutes to make. So instead of skipping breakfast or grabbing that sugary donut, try making one of these breakfasts to start your day off on a healthier, homemade note.
Mocha Banana Protein Smoothie Bowl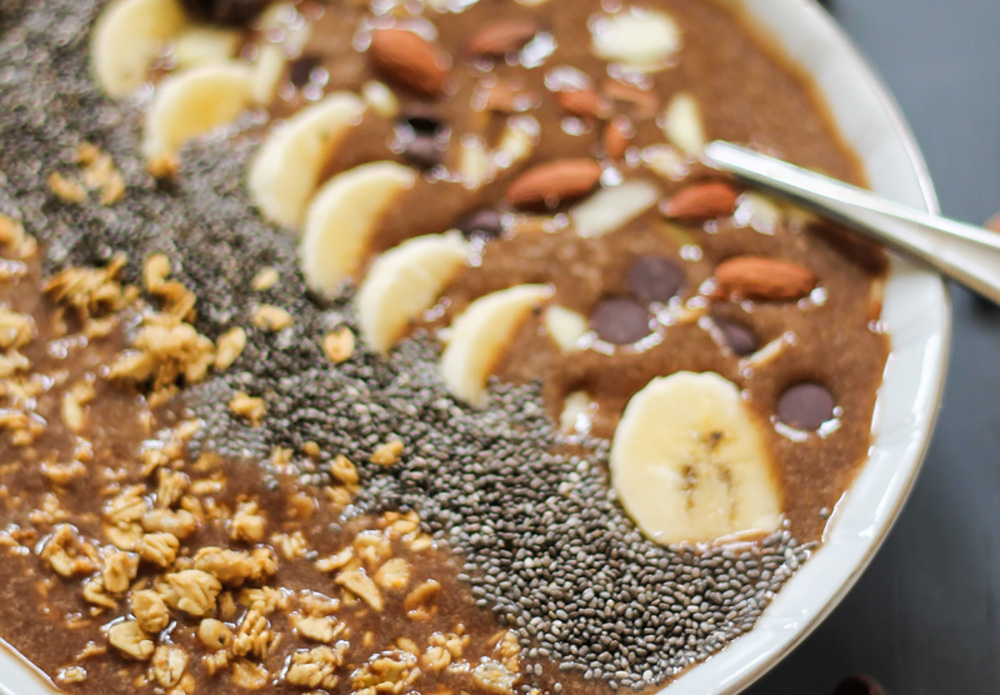 Ingredients
1 large frozen banana
1/2 cup Almond Breeze Chocolate Almond Milk, plus more if necessary
1 scoop your favorite protein powder (I recommend plain, vanilla or chocolate)
1 packet instant coffee, if desired
1 cup spinach (if you want a superfood boost)
A few ice cubes
Toppings:
Almond Butter
Toasted Almonds
Chia seeds
Low-fat Granola
Sliced Bananas
Fresh Strawberries
Carob chips
Unsweetened Coconut flakes
Directions
Add all ingredients except desired toppings to a blender and blend until smooth and creamy. If necessary, add more almond milk and/or ice to reach the desired consistency. The smoothie should be fairly thick so that you can eat it with a spoon.
Pour into a bowl and top with desired toppings such as chia and granola. Serves 1.
Oatmeal With Egg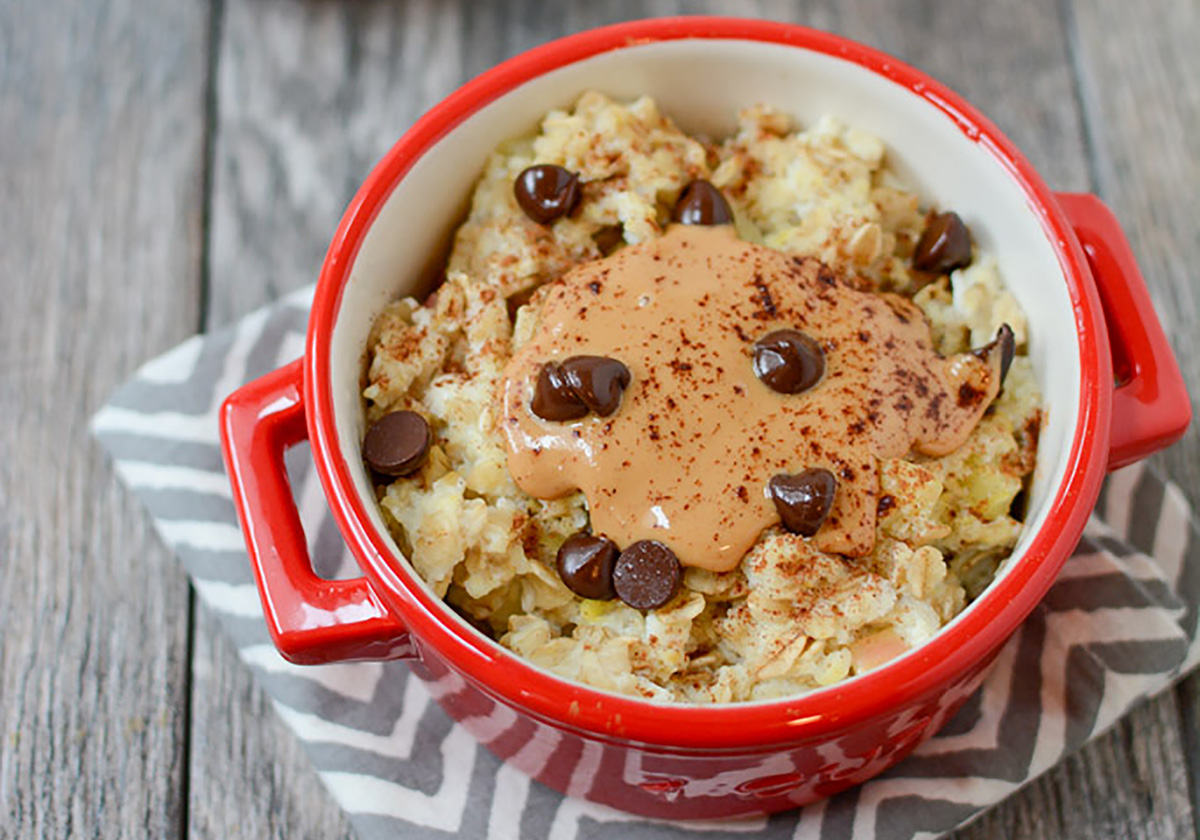 Ingredients
1/3 cup rolled oats
1/2 cup milk
1 egg
1/4 cup chopped fruit
optional toppings: cinnamon, nut butter, seeds, chocolate chips
Directions
Combine oats, milk, egg, and fruit in a bowl and mix well. Microwave for 1 minute and stir well.
Microwave another 60-90 seconds, depending on desired consistency (longer will make it drier, shorter will make it more liquidy). Top as desired and serve warm.
Protein Breakfast Sandwich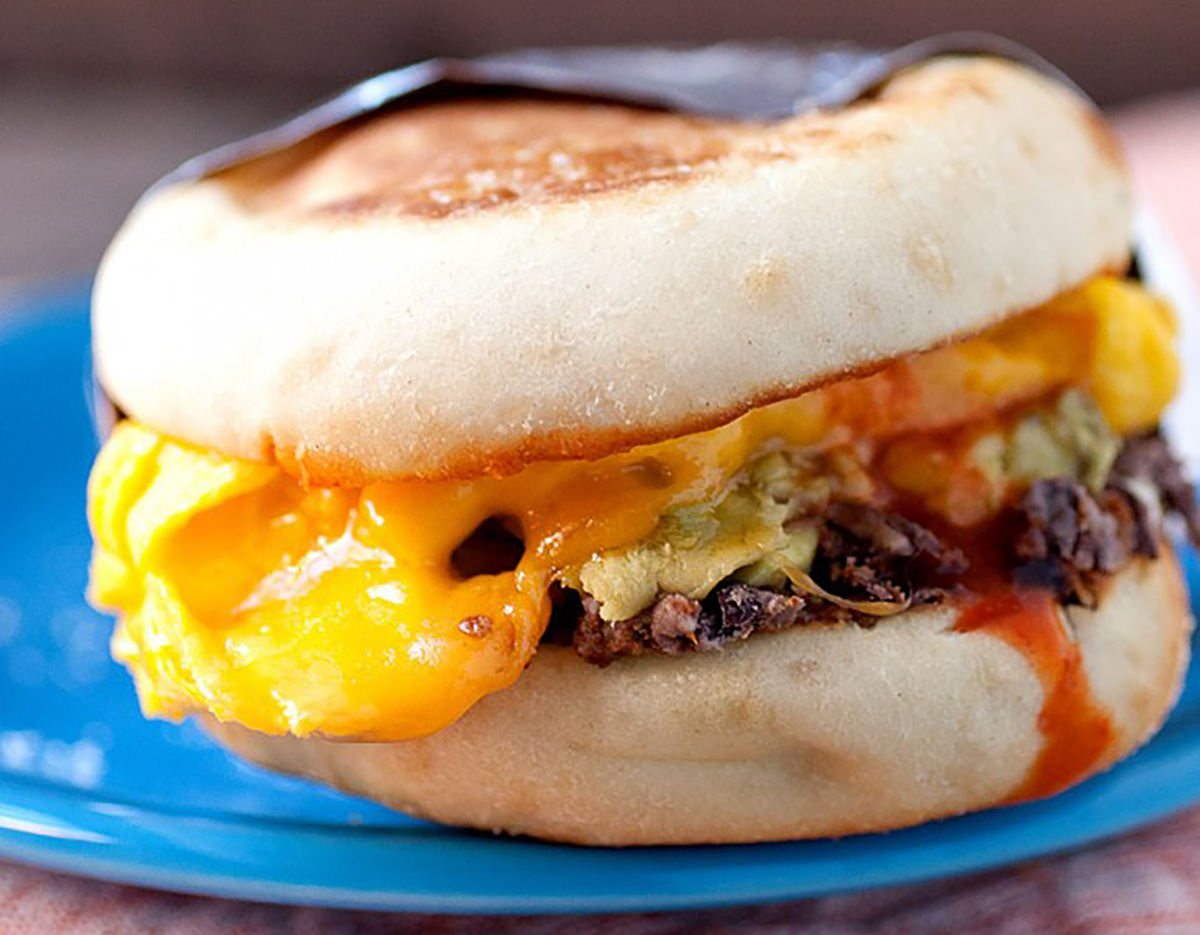 Ingredients
1 English muffin, toasted
1/4 cup black beans
Pinch of chili powder
Pinch of garlic powder
1/4 avocado
1 large egg
1/2 ounce cheddar cheese, grated
Hot sauce
Salt and pepper
Directions
Toast English muffin. Whisk egg in a bowl and microwave on high for 65 seconds. Remove egg and fold it into a circle shape the size of the muffin. Top with cheese and microwave for another 15 seconds.
Mash black beans (drained and rinsed) with chili powder, garlic, and a pinch of salt and pepper. Spread black beans on the English muffin and top with the avocado. Place the hot cheesy egg on top of the avocado and season with salt and pepper. Add a dash of hot sauce.
Eat the sandwich right away or wrap it in heavy duty foil and take it on the go!