As awards season kicks into full gear, it's time for a lot of the last-minute awards hold-outs to make their debut and get in front of audiences. This weekend, it was Sam Mendes's "1917," a World War I epic, that expanded wide after a limited Christmas release. Having just won the Golden Globe for Best Drama, all audiences were curious to see just how good this film was. And it was apparently intriguing enough to take the top spot of the weekend box office.
Though "1917" was indeed the winner of the weekend, it wasn't a massive feat for overtaking "Star Wars" given that it's still in the higher ranks. Sam Mendes's film made $36.5 million, boosting its domestic total to $39 million. Not a terrible start for a film that may have legs as awards season lingers but for how long we can't quite say, especially when the heftier commercial films with more marquee value make their debuts.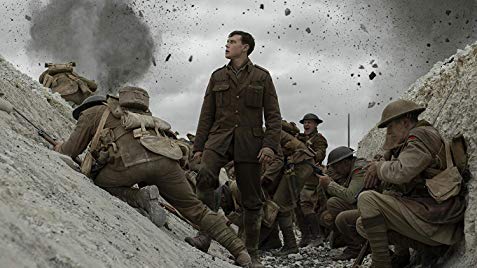 Still hanging in there as the big blockbuster of Christmas, "Star Wars: The Rise of Skywalker" dropped to #2 for the first time. For the weekend, it made $15 million. For its domestic total, it has made $478 million. Internationally, it'll be crossing $1 billion soon with only about $10 million to go.
As for new films debuting first in January, they have not faired well. "Like a Boss," a girl-power comedy, came in at #4 with a gross of $10 million. "Underwater," an aquatic creature feature, arrived at #7 with a domestic total of $7 million.
Check out the top 10 box office weekend results below:
1917: $36,500,000
Star Wars: The Rise of Skywalker: 15,059,000
Jumanji: The Next Level: $14,000,000
Like a Boss: $10,000,000
Just Mercy: $10,000,000
Little Women: $7,650,000
Underwater: $7,003,000
Frozen II: $5,761,000
Knives Out: $5,725,000
Spies in Disguise: $5,108,000