Fusion food typically combines ingredients from different cultures or sections of the world, producing a flavor profile that's crazy satisfying, to say the least. If you like a little adventure sprinkled over your entreés, you'll want to try these mashup recipes.
Go Big Or Go Home: Sushi Burrito
Lay out sheets of seaweed and cover them with sushi rice, vegetables, and meats of your choice. One fantastic combination? Salmon, cucumber, avocado, sweet potato, and spicy Sriracha mayo. Another? Shrimp, purple cabbage, avocado, and cucumber.
Opt to experiment with different combos, because it's going to taste good no matter how you slice it. Once you've mastered this craft, your friends will never look at you the same. You'll become that person who rolls sushi on their own, small rolls and jumbo burritos alike.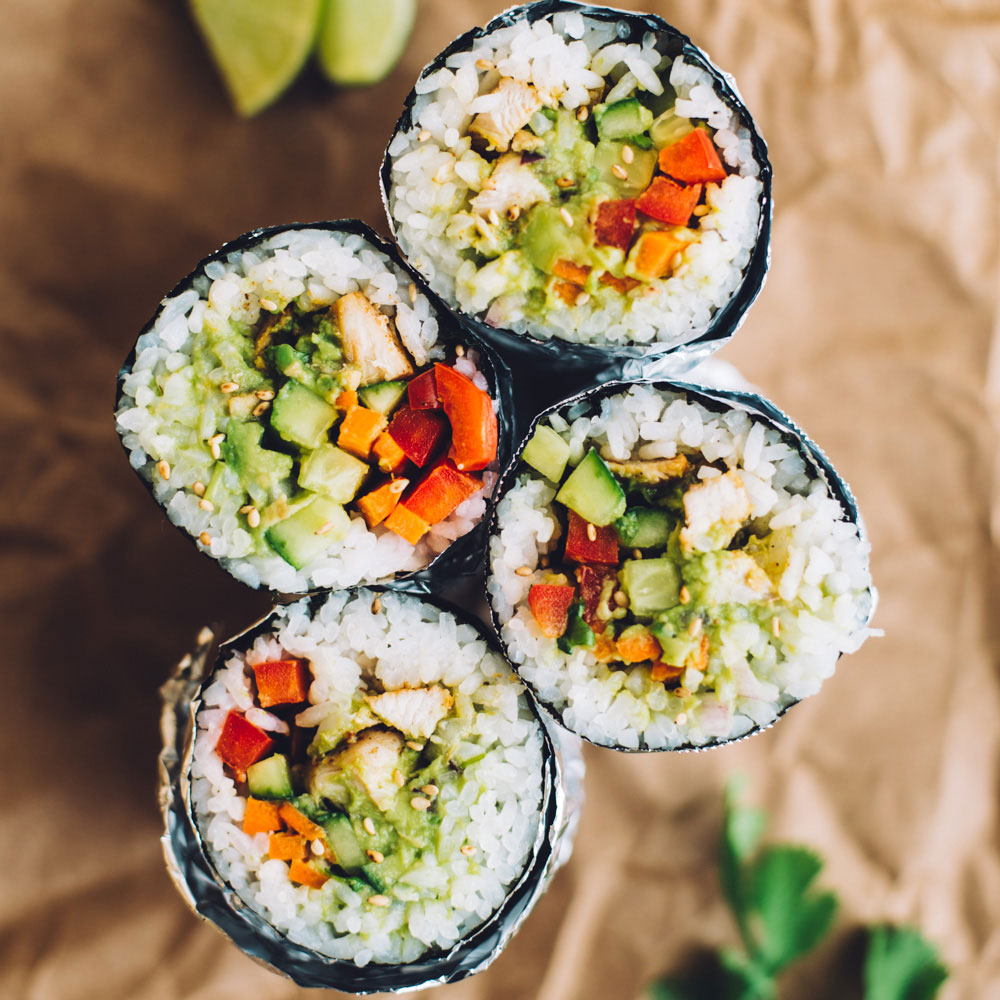 Falafel Scotch Eggs
A classic Scotch egg is hugged tightly by sausage and it's good, but this is great, too. These work for breakfast or a first course. Boil and peel your eggs ahead of time and soak those chickpeas for 18 to 24 hours before you put this together.
Ingredients
• 3/4 cup dried chickpeas
• 4 medium scallions, chopped
• 2 cloves garlic, chopped
• 2 Tbsp parsley leaves
• 1 Tbsp olive oil
• 1 Tbsp lemon juice
• 1 tsp ground cumin
• 1 tsp ground coriander
• 1 1/4 tsp salt
• ½ tsp baking powder
• 6 large hard or soft boiled eggs, peeled
• 4 to 5 cups vegetable oil, for frying
Once your chickpeas have soaked and your eggs have boiled, run chickpeas with herbs, oil, and seasonings in a food processor. Halfway through, sprinkle baking powder over the mixture and pulse until the mixture forms a ball.
Divide falafel into six even portions, roll into balls, and then take turns folding each into plastic wrap. Use a rolling pin to gently flatten the falafel into a patty. Unwrap and place an egg in the center of the patty, then pull the plastic wrap back up to help create the falafel casing.
Fry each egg stovetop in oil that's 350º F for roughly four to five minutes. Let them rest so excess oil can drip and then serve.

Get Greek With That Quesadilla
Combine mozzarella and feta cheeses with sun-dried tomatoes, spinach, and a touch of dill leaves for a Mediterranean take on this Mexican classic. Add chicken and black olives if you want even more flavor. Serve with a side of tzatziki or garlic sauce and you'll be left licking your fingers. Opa!