Martin Scorsese's "The Irishman" is nearing closer to its debut and there's a lot of hype around the film for a number of reasons. For one, the cast includes the likes of Robert De Niro, Al Pacino and Joe Pesci. For two, it'll be a grand adaptation of the true-crime novel "I Heard You Paint Houses." For three, well, it's Scorsese directing a true-crime picture, a genre he usually does stellar with adapting. For four, it'll probably be an Academy Awards contender in the same way last year's "Roma" was up for Best Picture despite being on Netflix.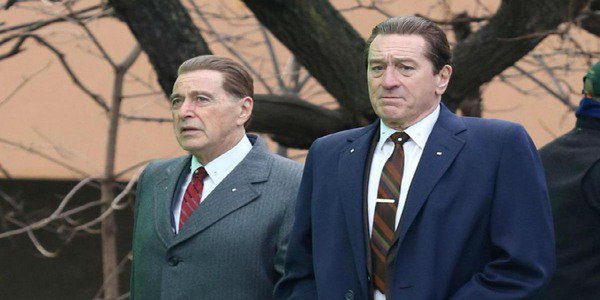 Theaters chains are not exactly happy about Netflix hogging all the glory of hosting Oscar-worthy content but there may be some good news for a few of them. According to Deadline, a deal has been reached with AMC where "The Irishman" will be premiering in theaters ahead of its Netflix streaming release. If you don't want to venture out to the theater, you can patiently await to see the film on November 27th (yep, it's a Thanksgiving release). But if you want to catch it early, limited screenings will start as early as November 1st and then expand to more theaters on November 8th.
This release is somewhat similar to that of last year's "Roma" and is obviously being done to meet the Academy Award nomination standards of having a film released into theaters. Could "The Irishman" end up being nominated for the Oscar of Best Picture. It's too early to say but it's a safe bet.
Read the synopsis below:
The Irishman is an epic saga of organized crime in post-war America told through the eyes of World War II veteran Frank Sheeran, a hustler and hitman who worked alongside some of the most notorious figures of the 20th century. Spanning decades, the film chronicles one of the greatest unsolved mysteries in American history, the disappearance of legendary union boss Jimmy Hoffa, and offers a monumental journey through the hidden corridors of organized crime: its inner workings, rivalries and connections to mainstream politics.