A group of elementary school students got the surprise of a lifetime this week when the most famous Wookiee in the universe, Chewbacca of the Star Wars film series, showed up at their school. It was all thanks to a letter written by one of their classmates.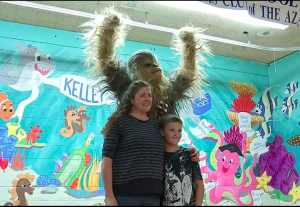 Last year, Wyatt Farmer, a fourth grader at Kelley Smith Elementary School in Palatka, Florida, wrote a letter to Lucas Films, telling them all about his love of Star Wars. Soon after, he received a response in the form of a basket of gifts.
"George Lucas sent me a FedEx package filled with Star Wars stuff," Wyatt explains. "I got an original Luke Skywalker figure."
But that wasn't the end of it. On Thursday, an assembly was called for all the fourth and fifth graders at Kelley Smith Elementary School. As Wyatt and his classmates waited for the assembly to begin, none other than Chewbacca stepped onto the stage.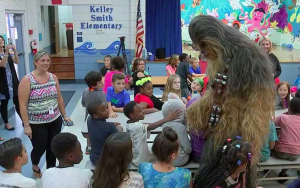 As it turns out, Disney and Lucas Films arranged for the hairy Star Wars character to visit Wyatt and his school roughly a year after receiving his letter.
The students screamed at the sight of the Wookiee, and within minutes they were lining up to give him a hug and pose for pictures with him. Representatives from Lucas Films acknowledged that it was all because of Wyatt, who was dressed in his Star Wars shirt, and the letter he wrote.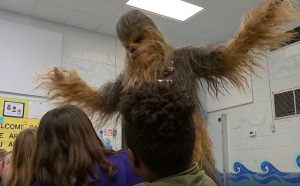 After the initial excitement died down, Chewbacca stayed on campus for the rest of the day, popping his head into classrooms so the rest of the students could catch a glimpse of him. There's no word on whether any of the students or unsuspecting teachers were frightened at the site of the larger than life movie star.
"I hope you will never forget this day because it's something you did," Wyatt's mom said to him amidst all the excitement. "You wrote a letter and you did this for all of your friends."
[Images via actionnewsjax.com]